The Hancock-Henderson Quill, Inc.

---
Meet Your Neighbor
by Susan Galbraith, The Quill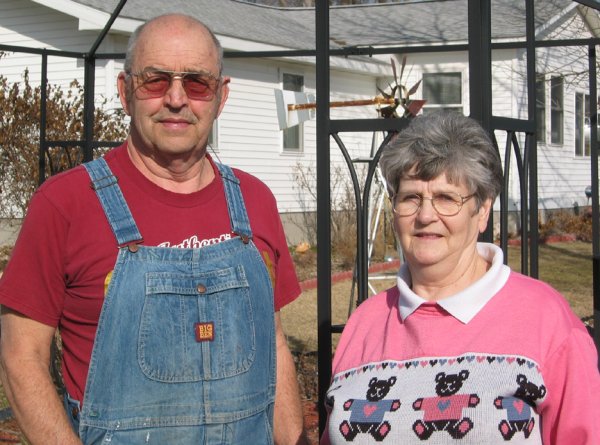 Meet Your Neighbors Alvie and Becky Tee of Oquawka.
Alvie is retired from Shipley's in Burlington, Iowa after 21 years. Becky has worked at various places including, Sylvania, Answer Iowa, Hotel Burlington, LaMont Corporation, The Harrison House, the Oquawka Diner, and Jack & Jill.
Alvie graduated from G & O High School in 1954 where he met Becky.
They have been married 49 years and will celebrate their 50th wedding anniversary on March 16, 2008.
Alvie and Becky have one daughter, Debra (Steve) Eckley; two sons, Brian (Becky) and Steve, who all reside in Oquawka. They are blessed with one grandson, Dylan Tee.
Alvie has two brothers, Allen (Lois) of Oquawka, and Ronald of Oquawka; two sisters, Iona (Bob) LaVeine of Burlington, Iowa and Karen (John) Parkins of rural Oquawka. .
They have a full time working hobby, in their yard and garden, with over 100 beautiful flowers, annuals and perennials, organic grasses, berry producing shrubs and vines in a spacious area, with 5 fountains and ponds.
Gourd racks and martin houses, for the purple martins, are hung throughout the entire garden and yard.
A new addition to their yard is a gazebo where they can sit and relax and watch the beauty of nature.
This year Alvie decided to try something new to house his purple martins. After looking at a picture in a magazine he decided to build a gourd rack, which is a feeder for the purple martins. The racks are designed with several metal prongs to hold the gourds. He uses either natural or plastic gourds that to hang on the rack.
He also designs smaller bird feeders that protect the smaller birds and their feed from larger predators.
They have 33 different species of birds in their yard, but purple martins, are by far, Alvie's favorite birds. They arrive in late March or early April.
They are also certified by the Wildlife Habitat organization and last summer they were part of the first Dirty Hands Garden Tour in Oquawka.
---