The Hancock-Henderson Quill, Inc.

---
Community Focus
By Holly Willdrick Quill Reporter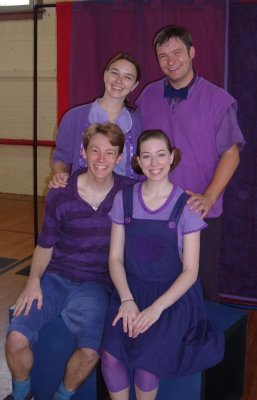 The Western Illinois University Regional Touring Theatre Company (RTTC) was established in 1974 and are currently in their 33rd year of productions.
Since that first show they have gone on to present more than 3200 productions of 74 plays to more than 800,000 elementary school students throughout Illinois, Iowa, and Missouri.
Each fall and spring semester WIU students from the theatre, dance, and music departments take their shows on the road.
The RTTC performs primarily for grade schools but has also performed in community centers and libraries. "We perform stories designed to enlighten, entertain and educate students." Their stories are from popular children's literature, fairy tales, or are stories written specifically for the RTTC.
The program deals with a variety of issues from the traditional "moral of the story" to social issues. The goal of the RTTC " is to give schools and teachers an opportunity to use theatre as a way to enhance their cultural arts curriculum and to explore and discuss the issues from the play in the classroom".
In May 1999, the RTTC was awarded the annual recognition award from the Illinois Alliance for Arts and Education for their outstanding contributions to the arts in Illinois.
Founding Director of the RTTC, Eugene Kozlowski, has won several national awards for his adaptations of traditional fairy tales and children's stories. The play, Rumpelstiltskin, won first place in the Kansas City Children's Theatre competition in 1990 and was on tour for two years in that city. He has also had nine of his original plays performed on public television in 1992-93.
This year's fall semester production was written and directed by Marcus Olson, assistant professor in the Department of Theatre and Dance, and will be "The Gimblestocks and the Ribblesnorts - Showdown in Robsnocken". Young Gladys Gimblestock and her father Gulicus Gimblestock live in a neighborhood in the town of Robsnocken (just east of Pramhiffer). Everyone in this neighborhood loves the color RED. But the Gimblestock family loves it SO much that they really don't care for any other colors at all.
One day, Rowena Ribblesnort and her young son Pistol Ribblesnort, move into the recently vacated house next door to the Gimblestocks. But serious trouble is in store for these two families because the Ribblesnorts are extremely partial to the color BLUE.
This play explores the theme of prejudice against others based on a preference for a certain color. There is a lot of physical and verbal humor in the show, and the main goal is to entertain.
However, there are also perhaps a few lessons to be learned. The student cast includes: Ben Gougeon, a third year MFA Acting Program student from Alpena, MI; Jamie McCoy, a second year MFA student in Directing from Berryton, KS; Holly Weikal, a junior theatre major from Woodstock; and Ben Cole, a third year MFA Acting Program student from Jenison, MI.
The first performance of the fall semester was held at the La Harpe Elementary on September 18. Grades Pre-K through 5 enjoyed the show and were able to ask the cast some questions afterwards. The performance at La Harpe was sponsored by the La Harpe Telephone Company.
The RTTC will continue to tour through December 13, 2006.
To book a performance phone (309)298-1618, College of Fine Arts and Communication, Western Illinois University, Macomb, IL 61455 or e-mail RTTC@wiu.edu. Performance resources are available at: www.wiu.edu/touringtheatre/. Online bookings encouraged.
---