The Hancock-Henderson Quill, Inc.

---
Lomax Celebrates Heritage Trail Days with a Parade
by Jennifer Sparrow,, Special For The Quill
The Lomax Country Day was held on Saturday, September 23rd during the Henderson County Heritage Trail Days.
The day kicked off with a wonderful parade at 1:00.
Grand Marshals for the parade were Beryl and Fern Sparrow. Beryl and Fern Sparrow were both born and raised in Lomax. They have been married for 54 years and live on the west edge of Lomax.
Beryl's father operated the Lomax Canning Company for 56 years. Beryl enjoys building and selling wood crafts. Fern keeps buys selling Avon. She has sold Avon for 36 years. They have five children, nine grandchildren, and five great grandchildren. They rode in a horse drawn carriage followed by members of several local VFWs.
Parade participants included Girl Scout Troops #25, 34, and 53. Politicians in the parade were Representative from the 94th District Rich Myers, County Treasurer Susan Meyers, County Clerk Marcella Cisna, and Circuit Clerk Sandra Keane.
The Henderson County Democrats displayed a float and Republican Senator Candidate Andrea Zinga walked in the parade.
Don Reeder drove his 54 Ford Truck and Rich Wyatt drove Don Reeder's 38 RC Case.
The Lomax Ambulance, Lomax Fire, Oquawka Fire, and a Lomax Township truck were driven in the parade.
A clown handed out balloons throughout the parade.
Area Businesses represented were Roger's Pumpkin Farm, Riverbend Friends, Old Oak Country Dˇcor, and McDonough Telephone. Several kids rode their four wheelers in the parade as well as a go-cart and 1976 Fire Chief car replica. The parade ended with Julie Pence and her daughter Samantha, Lonnie Bigger, and Katie Delcourt riding their horses.
Following the parade in Lomax Park, WCAZ sponsored fun-a-rama games and prizes for the kids. The games included a hay stack scramble, an egg toss, and a water balloon toss. A kid's train gave free rides around the park. Volunteers provided free painting as well for the kids. Several food and craft vendors were set up in the park.
After the kid's games, a magic show was performed by Mr. Steven Parker of Burlington, IA, in the park building.
The rain held off and it turned out to be a wonderful day. The Lomax Country Day Committee hope that everyone had a great time and we look forward to an even better event next year.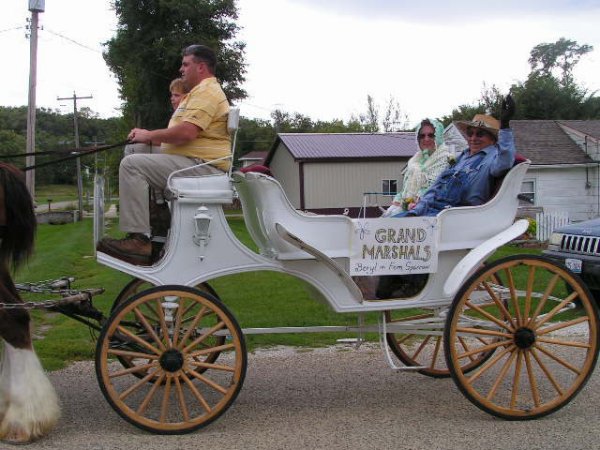 Grand Marshals for the Lomax parade are Beryl and Fern Sparrow.
---