The Hancock-Henderson Quill, Inc.

---
Cyclones Blow Heat Away
By Coach Will Bavery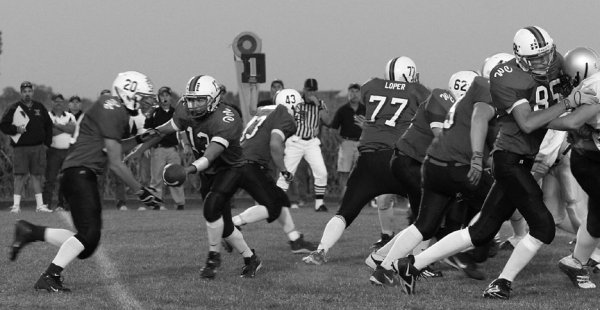 The West-Prairie La Harpe Cyclones used their quickness to rip the Heat defense for 41 points on their way to a 41-12 win over West Central Friday evening.
The Heat were able to move the ball again and were trailing only 15-12 with 35 seconds to go in the first half. The Cyclones scored with 30 seconds left to go up by10 at halftime.
The Cyclones drove another score in on their first possession of the second half to widen their lead to 16. The Heat responded and drove the ball down to the six yard line where a costly fumble sealed their fate. The Cyclones added two more scores to take home the 41-12 victory.
The Heat's scores came on a 3 yard touchdown run by Andy Chockley which was set up by a 57 yard run by Drue Waterman. The other score came on a 24 yard touchdown pass from Drue Waterman to Adam Smith. Drue is only a sophomore but he really stepped up and played big for us in this game.
On the defensive side of the ball we just have to get better play. We were playing without Dalton Chandler, one of our better defensive players, who had strained his leg kicking a field goal on Wednesday. Even though Dalton has played well, his absence was not the only problem we were facing.
This week we will make a concentrated effort to improve our tackling and to get our responsibilities in order.
Our next opponent A & R is undefeated and is leading the conference. We must have a good defensive effort to be competitive.
Score by Quarters 1 2 3 4 Total
WPL 7 15 6 13 41
WC 6 6 0 0 12
Ind. Passing
Waterman att 4 comp 2 for 32 yards 1 TD 2 Int.
Ind. Rushing
Chockley 26 for 94, Livermore 9 for 22, Blender 1 for 2, Waterman 11 for 78, Harkness 2 for 5, Bewley 1 for 2
Ind. Receiving
Smith 1 for 24, Livermore 1 for 8
---