The Hancock-Henderson Quill, Inc.

---
A True Homecoming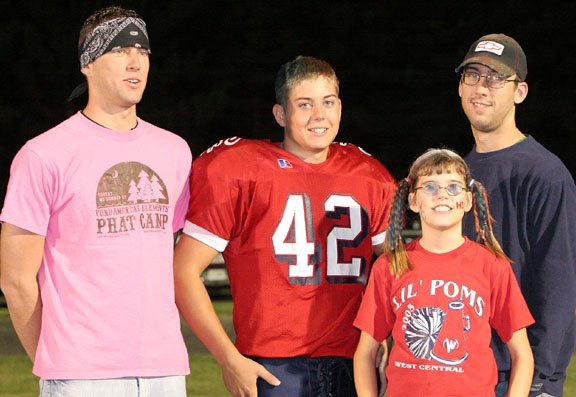 At West Central's Homecoming game Friday evening it was a true Homecoming for one family.
The Jay and Tina Waterman family from Oquawka had an exceptional homecoming when two of their sons were able to come home from the Air Force at the same time along with attending their brother Jacob's Homecoming game.
Jonathon who will have served in the Air Force 4 years this November was home for 4 days before he, his wife April, and their two children, Hanna and Jaydon leave for England for 4 years, for Jonathon's next station.
Justin who went into the Air Force this February, just finished Tech. school August 29 and was home on leave for 12 days before going to his first duty station in Louisiana.
Their brother Jacob was sophomore attendant for West Central's Homecoming Court this year and was excited to have his older brothers at the game. And their little sister Jessa was there to cheer them on.
Jonathon, a 2001 Union graduate, joined the Air Force "for the opportunities that they provided," and he is very excited about going to England. "It's a chance to see places that I would never get to see otherwise," he said. After his 4 years in England he would like to be stationed in Germany.
Justin, a 2003 Union graduate, said he joined to see the world. He will soon experience first hand the problems in Iraq as he has decided to volunteer for deployment to Iraq in February as Barksdale AFB is having a voluntary deployment.
"I want to go to Iraq for the experience," Justin said.
After his West Central graduation, Jacob also has plans to join the military. With two brothers in the military, he said, " I am very proud of them."
It was by chance that both boys were home at the same time. Justin could have been home at the beginning of September, but a hold over on his orders gave him a later leave which allowed all four of the children to be home at the same time.
Their mother Tina said, "The LORD smiled on us this week"
It was a true homecoming for the family who enjoyed homecoming festivities of West Central as well.
---