The Hancock-Henderson Quill, Inc.

---
Henderson County Democrats Enjoy Annual Fry
by Dessa Rodeffer, Quill Publisher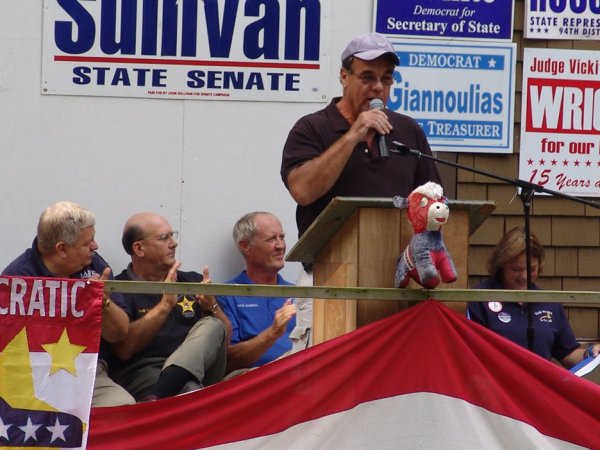 Around 450-500 attended the annual Henderson County Fish Fry Sunday at Delabar State Park with Senator John Sullivan, Candidate for Congress Phil Hare, and for State Representative Gail Russell, and Nina Hurt- for Henderson County Treasurer and Sheriff Mark Lumbeck running for reelection unopposed.
Phil Hare stopped to enjoy the catfish cooked by Bob Russell and his crew who prepared 700 lbs. of carp, catfish and chicken for the event.
Hare told democrats that he wanted to see all Veterans get prescriptions filled as he touched on issues of health care, kid care, minimum wage increase.
"Health care should be a fundamental right for everyone," Hare said, "not just a few.
Below, Judge Vicki Wright running for the 3rd Appellate Court shared her passion for people.
Wright said her mom was her hero. Her father enlisted when she was 7 months pregnant and they had a second child at home. His plane went down and he was killed. "We knew the value of freedom and the vote," Wright said.
Wright\'d5s mother also learned to be a pilot and taught Judge Vicki, you can find a way, and that you can become anything you want to be.
Candidate for State Representative Gail Russell said he was not running because he needed a job, but to take representation to Springfield. School funding, health care, funds for roads are his priorities.
Sheriff Mark Lumbeck, running unopposed, said getting Gail Russell elected was the most important race because we need new roads. Henderson County leads the district in fatalities, Lumbeck said. "There's no place to pull off on Highway 34 until you get to Gulfport. "vote for Russell is a vote for the future in Henderson County," he said.
Sheriff said he can\'d5t believe the number of people who do not vote and encouraged people to get out and vote this November.
Tim Dirth, 'The Hitman' performed solo with his country western music.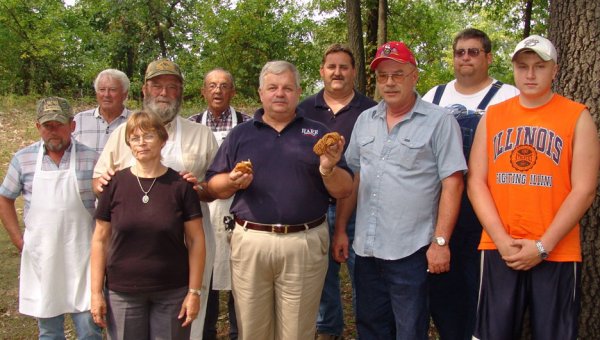 Democratic candidate Phil Hare, from the office of Congressman Lane Evans in Moline gets the chance to taste the catfish with Bob Russell's crew after the speeches Sunday.
---