The Hancock-Henderson Quill, Inc.

---
Business Focus
By Holly Willdrick Quill Reporter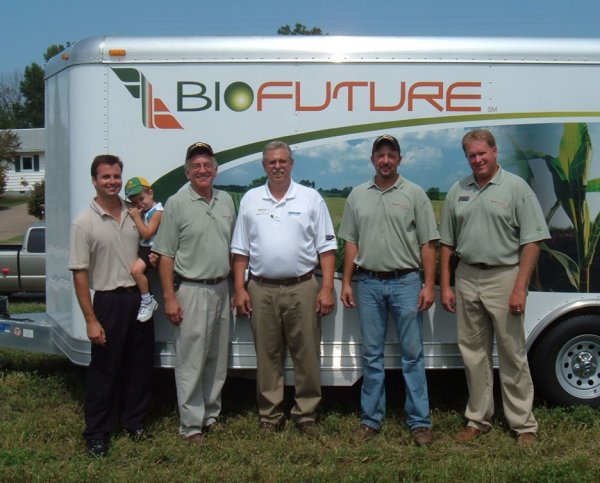 Greg Blythe and Blythe Enterprise
Greg Blythe and Blythe Enterprise have been in business since 1968.
Greg's father had started the business in 1958 as a seed dealership and it has grown ever since.
Greg now is a district sales manager for Midwest Seed Genetics.
They recently held their annual Company Focus Field Day at the corner of the Fountain Green blacktop. Many area farmers came out to learn about the new technology that Midwest Seed had to offer.
They were first taken into a semi trailer to watch a video and several different focus sessions were offered that farmers could go to.
R & D Food were hired locally to offer a hot lunch and ice cream for desert.
"No matter what company they go with I hope that they were able to take something with them that will help them," Blythe said.
Greg specializes in corn, soybean, and alfalfa seed sales.
" I love getting to work with the people and seeing them prosper."
"It has been a lot of fun over the years working with the community and the state. It is rewarding when the new technology I show them helps better their ways of farming so that their operation prospers more."
Greg is married to Diane and they have two children.
Melissa (Tyler) Rhode who lives in Hudson, IL. with their two children, Garet (5) and Preston(2).
Lance (Amanda) Blythe who live here in La Harpe with two children, Hailey (6) and Trenton (4).
In Greg's free time he enjoys boating.
---