The Hancock-Henderson Quill, Inc.

---
West Central Heat Stops Panthers 16-6
By Coach Will Bavery
It was a defensive struggle all night last Friday as the West Central Heat battled the Central-Southeastern Panthers. The Panthers crowded the line of scrimmage with all eleven players with them all coming.
The strategy paid off as the Heat offense was bottled up for most of the game. The Heat turned over the ball on a fumble on their first possession and the Panther pushed in a quick score. Andy Chockley made a big hit on the conversion play to hold the score to 6-0.
In second quarter we found a way to trigger their overshift, and the Heat put together a good scoring drive with Andy Chockley going in from six yards out.
Andy then hit Calvin Covert on the conversion pass for an 8-6 Heat lead. The Heat defense then took over and shut out the Panthers the rest of the way. In the fourth quarter the Heat again mounted a scoring drive when Adam Smith hit Ryan Shaner with a quick pass, and the big tight end shook off a tackler and rumbled into the end zone from 23 yards out.
Adam Smith added the two-point conversion to give the Heat a ten-point lead. From then on the Heat defense pounded the Panthers on every play.
Our defensive unit pumped up by the large crowd made big play after big play. It just seemed like they took turns in making the big plays. Jason Sams, Dan Crum, John Livermore, Cody Lane, Cameron Hartman, Ryan Shaner, Brad Buss, Dalton Chandler, Dakota Pullen, and Andy Chockley were some of the people who had big defensive plays. It was the first time that I have seen the Heat step up and consistently make the big play.
This Friday the Heat host Mendon Unity-Payson in a 7:00 p.m. game. We will be trying to keep playing the tough brand of football that we put on display last Friday.
I urge the fans to come out and see this team, as I don't think they will disappoint you. Also, the large turnout of fans was the thing that pushed our guys over the top last week.
Score by Quarters 1 2 3 4 Total
CSE 6 0 0 0 6
WC 0 8 0 8 16
Rushing CSE 60 WC 106
Passing CSE 21 WC 41
Total Offense CSE 81 WC 147
First Downs CSE 10 WC 9
Ind. Rushing Chockley 18 for 86
Blender 3 for 6, Smith 4 for 12, Livermore 12 for 18, Webb 2 for 8
Ind. Receiving Covert 3 for 13, Shaner 1 for 23, Chockley 1 for 5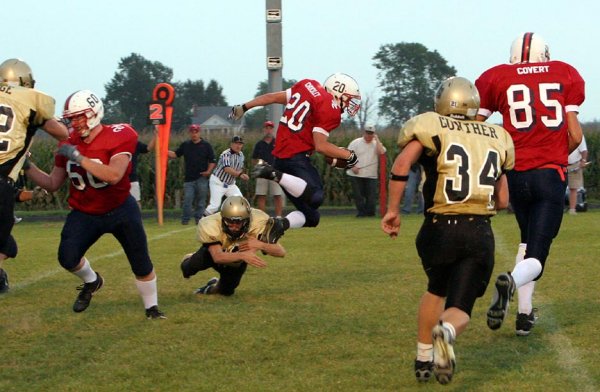 #20 Andy Chockley, WC senior, fires over a Panther. Sophomore Zack Nelson-50,and Senior Calvin Covert-85 in play for the Heat during their win over the C-SE Panthers Friday night.
---