The Hancock-Henderson Quill, Inc.

---
"On Stage Band" enjoyed at Summerfest Saturday evening
by Gloria Snyder, Quill Staff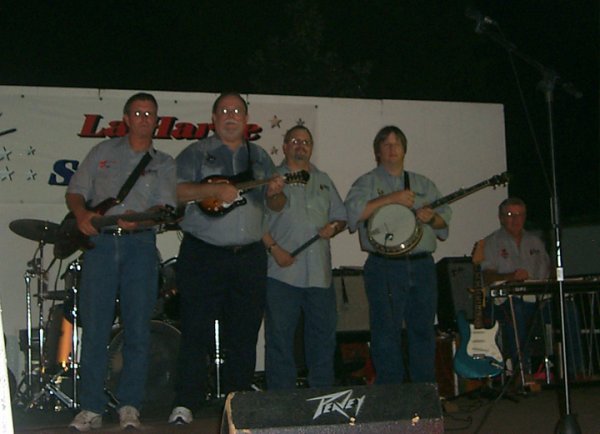 The program on Saturday evening, August 26, 2006, began with the presentation of Colors by Legion Post 301 of La Harpe.
This was followed by the National Anthem sung by C. J. Bolding and a prayer given by Aaron Baker. Todd Stevens served as Master of Ceremonies.
At 7:30 p.m. "On Stage Band" began their entertainment which continued to capture a large audience until 9:45 p.m.
They did classic country and 50's and 60's rock, such as "Working On My Next Broken Heart", "Farewell Party",
"Heaven","Rolling In My Sweet Baby's Arms", "It's Only Make Believe","Blue Suede Shoes", which were only a few of the tunes representing the variety of Country and 50's, 60's Rock that is special to this group.
They are a five piece band with members (pictured) Jerry Bratcher, Stan Creasey, Justin Royer, Bob Rolland and Marvin Miller of La Harpe who joined the group in June, 2006.
The group plays at small town fairs, private parties, weddings and have also performed monthly at the La Harpe Community Club house this past spring.
They are looking forward to coming back to the Club House in September with a new show, and also encourage a local talent to be featured at each month's show.
The local talent featured at their Summerfest performance was Todd Stevens of La Harpe who sang a country music solo.
The La Harpe community enjoyed the talents of On Stage Band and look forward to their return in September.
Band member Jerry Bratcher stated, "To us it's all about the music and the fun we have."
---