The Hancock-Henderson Quill, Inc.

---
Horse and Carriage Museum In The Making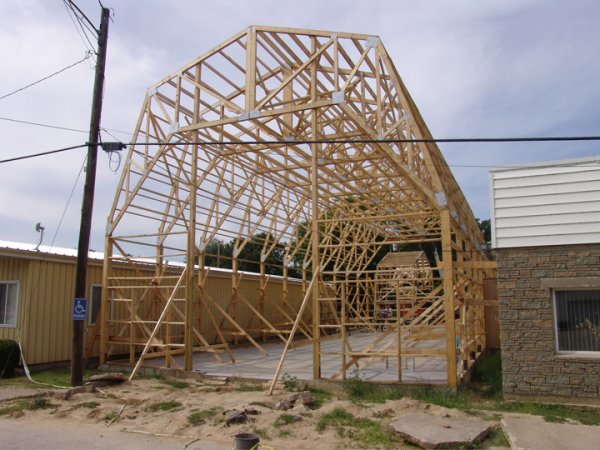 There is anticipation in the air around Biggsville as progress is under way in the construction of the new Horse & Carriage Museum in downtown Biggsville east of the Community Center.
According to Jerry Weibel, local contractors are being used and material is being purchased within the county in an effort to recycle money within our communities.
Mark Shafer of Biggsville is in charge of the construction and has been helped by several local men including Don Rice and Mark's father Ray Shafer. The project has moved along since the photo was taken a few weeks ago. It now has tin on the walls and some tin on the roof, the front door and a canopy is framed in over the front entrance.
The larger entrance in the back will allow for bringing in museum pieces such as hay loaders and separators and will allow for lights and fans above them. Heating will be in the concrete floor and a boiler will be used for the hot water heat. Weibel reassures that it is not a barn.
"The closest a horse will be to the museum is when horses pass by during a parade"
The project will not be entirely completed in time for Heritage Trails, however, it is hoped it will be open for viewing the progress.
---