The Hancock-Henderson Quill, Inc.

---
Raritan State Bank Breaks Ground For New Banking Center In Bushnell
by Dessa Rodeffer,, Quill Publisher/Owner
A third location for banking is beginning its construction process in Bushnell, just off route 41, due to the vision of the Raritan State Bank Board of Directors.
At the ground breaking ceremony Wednesday, October 11th, nearly 200 people gathered around to watch bank directors, employees of Raritan State Bank, and Abingdon Banking Center, and others take part in the ceremony.
The 5:00 p.m. ceremony was preceded with welcoming speeches from Robert Schleich, C.E.O. of Raritan State Bank, Art Kane, the bank's president, Jan Van Arsdale, Chairman of the Board of Directors, and Sr. Lending Officer Marc Coursey.
Following these short speeches, Steve Russell, Mayor of Bushnell warmly welcomed the new business to their community.
Those attending were able to see the blueprints and decorating details of the new building which were on display.
Refreshments and gifts were distributed to all who attended and door prizes were given away of gift certificates and flowers from Bushnell businesses.
The building is expected to open sometime late spring or early summer of 2007.
President Art Kane, said the staff of their two banks, and directors were very pleased with the large crowd who came out, despite the cold weather.
"The bank of friendly service" will continue with their long-time logo," Art said, as he and the bank's staff look forward to the opportunity to serve their new customers in Bushnell.
Board members who were present are: Jan Van Arsdale, Steve Wisslead, Bill Simonson, Joe Krupps, Mike Neff and Art Kane.
Retired Chairman of the Board Duane Torrance, joined the current Board of Directors for the ground breaking ceremony.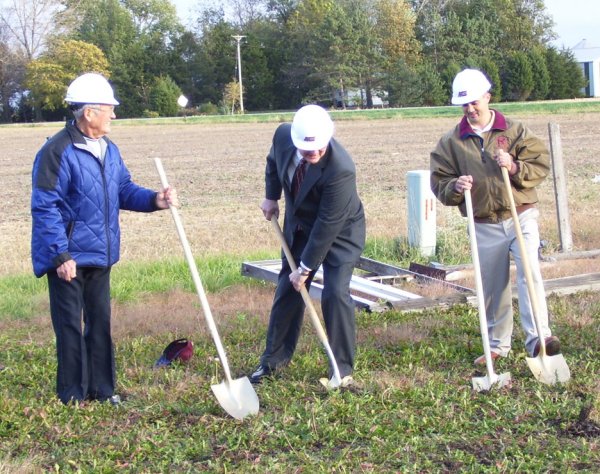 A McClure Engineer firm representative of Macomb pushes a gold shovel into ground in Bushnell just off Route 41 Wednesday, October 11 during a ground breaking ceremony for Raritan State Bank's third banking facility. The bank opened a second facility in Abingdon and the Bushnell Banking Center is set to open by summer of 2007.
At left, retired Chairman of the Raritan State Bank Board of Directors, Duane Torrane, Macomb, is one of many who took part in the ceremonies as well as Marc Coursey of Good Hope, Loan officer at Raritan who lives near Bushnell.
---