The Hancock-Henderson Quill, Inc.

---
Community Spotlight
By Holly Willdrick Quill Reporter
Ezra Cooley, 26, rode through La Harpe on October 17, 2006.
He arrived in town around 4:30 p.m. and stopped at the city park to allow his horses to get a drink.
Police chief Justin Livingston and members of the La Harpe Historical Society, Ada Hubbard and Dan Gillett and I were there to greet him.
Cooley left his home in Chico, CA on April 5, 2006 on the back of his 5 year old horse, Red, and with pack horse, Jahob, who is 26 years old, on a cross country horse back expedition from California to New York.
When he reaches New York he will board a ship for Spain. Once in Spain he will continue on horseback to Africa, Australia, Alaska and British Columbia taking a ship when needed.
After he reaches Canada he will have another 1200 miles to reach home. He expects his around the world journey could take up to six years.
It has been a dream to cross each continent on the same horse. So far he has been able to ride Red the whole trip. However, in Wyoming he picked up Stryker, who was a wild horse.
"Stryker bucked all the way from Laramie to Cheyenne," but is a very calm gentle horse now, he said.
Jahob, given his age, was starting to have a hard time and Ezra was able to leave him with a caring family for the remainder of his journey.
To finance his trip Cooley sold his truck, horse trailer, and construction business. He is hoping to get a sponsorship from Cabelas, who advertises as the "world's foremost outfitters" and is the producer of "Cabelas Outdoor Adventures," but Ezra says he doesn't have one at this time.
While traveling, he relies on the kindness of strangers for board and the occasional meal. While along the trail he pitches his tent.
He tries to avoid major highways and travels along back roads when possible.
His main concern is the safety and health of his horses and people do not realize how easily a horse can be spooked.
He averages around 20 miles a day and sometimes he and his horses will stop for a couple of days to rest. While in La Harpe he camped at the Reservoir and was treated to a meal at the Route 9 Cafˇ by the Historical Society.
Ezra plans to have a cause for each continent his expedition takes him through, and while in the United States his cause is the National Children's Cancer Society.
If you would like to make a donation you can do so on his website ezrasexpedition.com.
You can also follow his journey by reading his updates. He tries to send a tape home every week so everyone can know what is happening on his adventure across the country.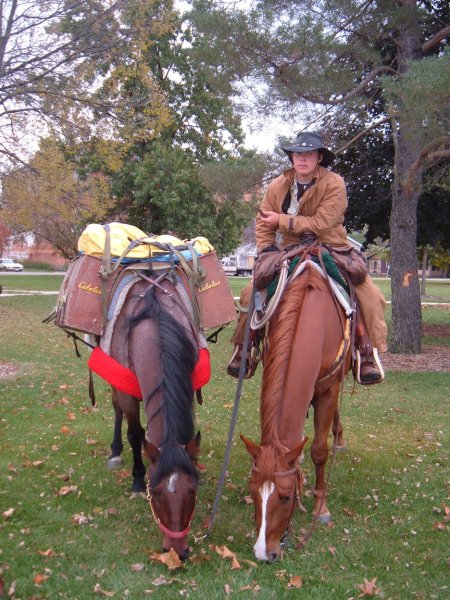 The City Of La Harpe entertained overnight visitors, Tuesday, Ezra Cooley, 26, of Chico, California and his two horses "Red" and "Stryker." They are on their way to New York to fulfill a dream.
---