The Hancock-Henderson Quill, Inc.

---
A Lively Mark Twain Visits The Golden Age Breakfast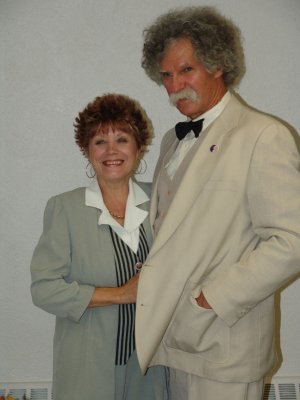 Biggsville- Rev. Richard Johnson smiled contentedly Saturday morning as the largest attendance of the Presbyterians Golden Age Breakfast in 49 years, gathered for fellowship in his church's basement.
They came and enjoyed a delicious home cooked breakfast prepared by the Board Of Deacons and then enjoyed a program rich with history, hosted by fellow Presbyterian Russell Liston Master of Ceremonies.
Liston introduced special guest Mark Twain of Hannibal, Missouri (AKA George Scott) who entered the church dining hall meandering through the crowd with his winter coat and hat still on, telling about his difficult travels there by train and by steamboat.
He continued visiting the group, using his quick wit and humor to make you think, stopping to tell the few boy scouts there, that his pipe was merely a prop, and smoking was bad for you.
Golden agers and the few boy scouts, enjoyed his humor and his rambling.
After hanging up his coat and his hat, Twain went on to humor the crowd with some reports of great imagination of his death and that he was in purgatory for 95 years.
"I am not even Catholic!" he exclaimed.
Standing in a long line at St. Peters gate, Twain said there were a lot of lawyers, politicians, and yes, even a few clergy.
They said, "We will send you someplace that starts with "H". I thought it was Harvard."
Twain told stories of The cave, and Becky Thatcher, and of his birth when Haley's Comet came through. Then it came again when he died in 1910, he said, and was "cometosed."
Then Twain went on about schooling, saying they are not teaching kids about nothing these days. "There's a lot to learn about nothing," he said. "The trouble with doing nothing, you don't know when you're done. There is more nothing than there is anything else."
Twain than teased the audience with more about nothing.
"I'm working on a new formula, and that's the speed of dark. So, when you open up an umbrella, you will know what the speed of shade is."
Twain also explained that God made man because he was dissatisfied with the monkey.
Twain did have inventions he told touched on. His first patent was patent (#121,992) for the "Improvement in Adjustable and Detachable Straps for Garments" on December 19, 1871. The strap was used to tighten shirts at the waist, and was supposed to take the place of suspenders.
Mark Twain (Samuel L. Clemens) received two other patents: one for a self-pasting scrapbook (1873), and one for a history trivia game (1885). His scrapbook patent was particularly lucrative.
George Scott portrayed Twain as a highly morale man and said he was drawn to do his character when he discovered they looked alike. The mustache and the bushy hair is all natural. They are both short eared people.
His wife who buys vintage clothing, said it was the bow tie that really did it for him.
"When he came out of the shop with the tie, people began asking him to pose for pictures.
Beside their looks, there are other similarities.
"We were both Presbyterians," Scott said. "My father died at age 12, his at age 13. We were both raised by our mothers."
"I came from a country in Yugoslavia when I was little. My wife Karen and I lived in Waukegan until we moved to Hannibal in June of 2002."
At 67, Scott says he has gone to a lot of events but he enjoys the seniors. "I do a lot with seniors where you learn the stuff. That is where the wisdom is," he said.
Russell Listen entertained the crowd with a dollar game. As he asked questions, he gave a dollar for every right answer then took away one fro every wrong one.
He asked the names of the four Presidents on Mount Rushmore, who the fourth President was and who was named President after Lincoln was shot.
Door prizes were awarded with Helen Chambers having the closest guess for the money in a bag - $10.14.
Nancy Hull won the large centerpiece. Other door prizes went to:
Verna Bigger, Dale Anderson, Dorothy Hill, Millie Holford, Hazel Hart, Mary Graham, Ilene Nolan, John Allaman, Verna Gibb, donna Price, Doris Ferguson, Bill Leonard, Vallie Smith, Richard Knutstrom, Mary Lou Allaman, George and Karen Scott, Marlene Knutstrom, Mary Jean Turley, Jack Kinslow, Andy Melvin, Glenn McClanahan, Jeanie Leonard.
---