The Hancock-Henderson Quill, Inc.

---
Watch What You Heat, Prevention's The Key
by Dessa Rodeffer, Quill Publisher/Owner
Firemen from the Oquawka Fire Department join fire departments across North America as members of The National Fire Protection Association (NFPA) to observe Fire Prevention Week October 8-14.
It is celebrated each October to mark the anniversary of the Great Chicago Fire while raising public awareness of fire safety. The 1871 Chicago blaze raged for several days and killed more than 250 people, left 100,000 homeless and destroyed more than 17,000 buildings.
The theme is Kitchen Fire Safety: "Prevent Cooking Fires: Watch What You Heat!"
Did you know that cooking is the leading causes of home fires?
Did you know cooking equipment is involved in more than 100,000 reported home fires yearly? Most start because people are not paying attention to their cooking.
Did you know electric stoves have a higher risk of fires, injuries, and property damage than gas stoves. However, gas stoves have a higher risk of fire deaths?
Did you know in 1950, many more homes cooked with gas than electricity? By the end of the 20th century, more households cooked on electric stoves. The primary cause of fires with either stove is leaving cooking unattended. And did you know that two thirds of stove fires start during the first 15 minutes of cooking?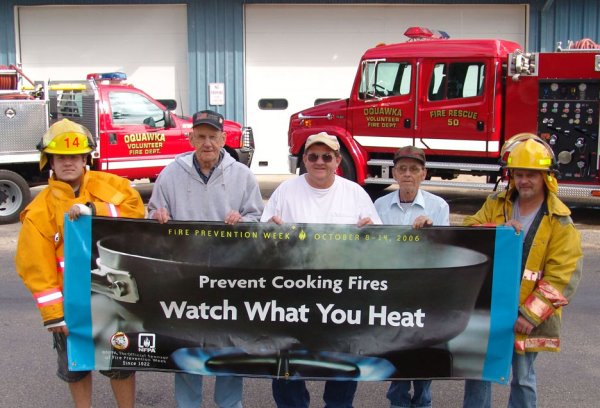 Oquawka Firemen from left: Cody Druin, Jr. Fireman, Huck Lumbeck, 65 years with the Oquawka Fire Dept., Hal Jern, 38 years and now Fire Chief, Larry Shamblin 26 years, and Dave Trafton,1 year after a recent move to Oquawka from IA.
---