The Hancock-Henderson Quill, Inc.

---
Business Spotlight
Artist brings comfort to families of fallen soldiers
An Eastern Illinois political science major and an amateur artist, Cameron Schilling said the media's coverage of the young men and women killed in the war in Iraq was lacking. "It seemed like the only time you heard about a death was when we reached a milestone," Schilling said.
Schilling was born in Mattoon in 1984 and graduated from Mattoon High School in 2002. He studied for one year at Brigham Young University in Hawaii. In 2003 he transferred back home to Eastern Illinois University for his sophomore year and is planning to graduate this December.
As a political science major he has taken an interest in topics related to the political arena within the world.
"One of the most important topics today is the war in Iraq and Afghanistan." However, Cameron felt that not enough attention was paid to the soldiers and their families who have given so much to their country.
On August 25, 2004, Charles Neeley, a young soldier from Schilling's home town died in Tikrit, Iraq after a tractor trailer accident. Before the funeral service he drew a portrait sketch of Charles and gave it to his mother and father. "My art work had actually made a difference to his family and friends."
When the number of deaths in the war reached two thousand last fall Schilling once again noticed the absence of the soldiers and their families in the news.
It was around this same time that he came across a quote from Susan Collins that explained how he felt. "We can never fully repay the debt of our proud nation to those who have laid down their lives for our country.
The best we can do is honor their memory, ensure that their sacrifice is not in vain, and help provide for their families."
It was at this point that he decided that he wanted to do something in honor of those soldiers who have made the ultimate sacrifice. In October 2005 he started "Portrait of a Soldier" which donates a portrait sketch to the immediate family of every Illinois soldier who has fallen in Iraq or Afghanistan since 2001.
These sketches are now traveling around Illinois for everyone to pay their respects to these fallen heroes.
This past week the exhibit was at the campus of Quincy University. As I walked through the exhibit of 132 sketches I couldn't help but say a pray of thanks for each one of these soldiers and their families. "It is a very heartfelt thing he has done for the soldiers and their families" stated Carol Palmer, mother of Cpl. Joshua D. Palmer.
She had an opportunity to meet Schilling when she visited the exhibit in Chicago. "It is a great feeling to know that he choose to do this for the soldiers and their families. It really means a lot and is a wonderful way to honor them." commented Mandy Palmer, Cpl. Palmer's sister.
For more information you can visit the website http://www.portraitofasoldier.org/.
"My hope is that with the help of the Lt. Governor's office that these portraits will mean as much to these Illinois families as it did to the Charles Neeley family," said Cameron Schilling.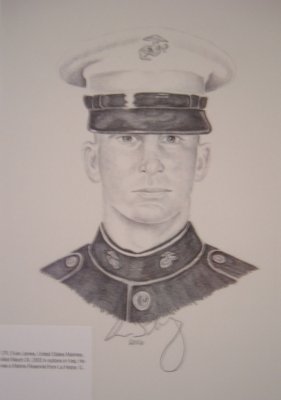 Cpl. Evan James, 20, US Marine Reservist, died 3/24/2003 in Iraq
Cpl. Joshua D. Palmer, 24, US Marine died in Iraq 11/8/2004
---