The Hancock-Henderson Quill, Inc.

---
Crazy Mary's Has Blaze That Stops Rima's Pizza Business
by Hal Jern, Oquawka Fire Chief, and Dessa Rodeffer, Quill Publisher
On Sunday evening, October 1 at 9:06 p.m. an emergency 911 call came into the Henderson County Sheriff's Department of a structure fire at Crazy Mary's Pizza at 9th and Schuyler Streets in Oquawka.
The Oquawka Volunteer Fire and Rescue Department was summoned and responded within 5 minutes with 4 fire trucks and 16 of their thirty firefighters on board.
Upon notification of the structure fire, Oquawka Fire Chief Hal Jern immediately called Gladstone and Keithsburg Volunteer Fire Departments for mutual aid assistance.
Oquawka and Gladstone firemen quickly knocked the attic fire out on the north and west side of the attic. An excellent job was done by both fire departments.
Other agencies who were also assisting in the call were Henderson County Sheriff's Department and Oquawka Ambulance Service along with Illinois State Police, and the Illinois State Fire Marshal was on the scene.
No one was injured in the blaze, and the cause of the fire was ruled electrical.
The house was originally owned by the Emil and Hazel Jern residence, (Chief Hal Jern's grandparents).
The original building was where the first citizens organized the Oquawka Volunteer Fire Department June 1, 1890, the oldest fire department in Henderson County out of the nine existing today. It was later reorganized in 1949.
With a new pumper truck, the first fire phone and fire whistle switch was installed in the house. Emil was the Oquawka fire chief.
Hal has loving memories of the Jern family gatherings at the home of his grandparents and he is very saddened for the fire damage and loss of Mr. and Mrs. Jim Rima's building.
Hal said his family enjoyed many Sunday dinners there of roast beef or chicken. The good family cooks consisted of his grandma Hazel (Decker) Jern, his mom Arlah (Wingfield) Jern, and aunts Ruby Gilmoure, Phyllis Jern, Mary Jern, and relative Iva Parsons. Forty-five to fifty relatives gathered for the meals, he said.
"It was here my father taught me about work," Hal recalled. "I wanted a pop and he explained that it was something I had to earn first."
Hal worked all day picking up rocks and sticks from the yard, then his Grandpa Emil gave him his well deserved soda.
"I was five and that was my first job," he said.
Jim and Elaine Rima have returned to the area after Jim retired from coaching in Iowa from 1976 to 1987.
He previously coached Union High School basketball from 1969 to 1976 where Hal Jern was a manager on the team.
"Coach Rima brought pride back to our school District," Jern said of Rima's coaching. "He was a coach, mentor, and good friend."
Rima and Jern recalled two of his players reaching 1,000 points-Lyle Smith of Biggsville and his son Craig Rima.
Rima coached 31 years with a record of 398 wins 212 losses.
"I have a lot of gratitude for Coach Rima and for setting us up for the future."
Rima also managed Hend-Co-Hills Country Club for five years after his return before later purchasing Crazy Mary's and opening his Pizza business.
"I'm not sure I will rebuild if the insurance doesn't cover all the losses," Rima said. "I'm 72 and not sure I can go through a rebuilding process. There's a lot of water damage and clean-up. We'll see."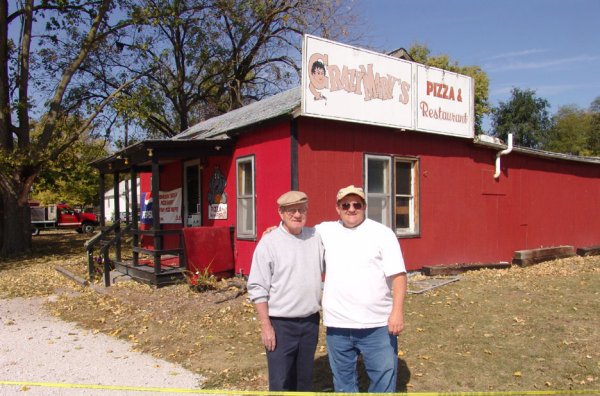 Jim Rima, owner of Crazy Mary's stands with Oquawka Fire Chief Hal Jern (right) after an electrical fire October 1st.
---