The Hancock-Henderson Quill, Inc.

---
Community Spotlight
By Holly Willdrick Quill Reporter
Community Spotlight
La Harpe enjoyed their annual Christmas Open House on Saturday, November 25. Many area businesses offered special sales, drawings for door prizes, and refreshments while customers shopped.
My Sister's Place celebrated their 30th birthday. It was a wonderful day for them. They have been a wonderful asset to this community offering flowers, cards, balloons and many other items.
Jerry and Cathy Burford had a drawing for a new bicycle that was won by Dillion Olson.
There were an array of festive trees displayed at the annual Festival Of Trees at the Methodist Church with over thirty trees. Each one had it's own theme and what a wonderful sight to see so many beautiful trees.
Santa was at Dollar General for the children to come and visit and have their picture taken.
If those things didn't get you to visit Main Street, then the smell of kettle corn in the air would have. Bill and Judy Burt were set up on Main Street making fresh kettle corn. They are such generous people giving away over a hundred bags of corn.
The afternoon wrapped up with the annual Christmas parade. The American Legion lead the many fire trucks, business floats, horses, and of course Santa down main. After the parade Santa made his way to the park to see the children. He listened to their wish list and gave them a candy cane, and an apple to take home.
If you weren't able to attend this year, make plans to attend next year. There is always something for everyone.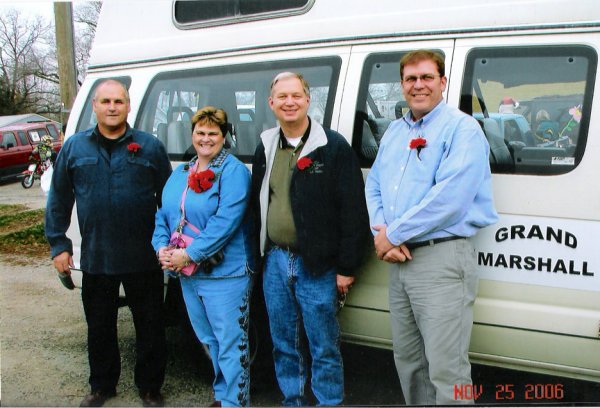 2006 Parade Grand Marshalls from left- Louis Bolding from Apage Church, Diane Bigley from Methodist Church, Bruce Goettsche from Union Church, and Jim Clayton from Adundant Life.
Not pictured is Darren Beachy from the Christian Church.
---