The Hancock-Henderson Quill, Inc.

---
All For The Love Of Sadie
by Dessa Rodeffer,, Quill Publisher/Owner
Pink and blue t-shirts, they wore, with hearts for Sadie imprinted near their heart. These were family members who were beside themselves with worry and grief, but motivated to do what they could to help Sadie and her mother, Amanda, face this crisis in their life.
Jennifer was a Schneider from Burlington, Iowa, their parents Richard (Snoop) and Jean Schneider both deceased, but they were good Catholics and left a legacy of 8 caring kids: Rick, Phil, Donnie, Ryan, Eddie, Jeanie Smith, and Becky Cook besides Jenny Lenz. The family traveled from Wisconsin, Colorado, Washington D.C., Maryland, Missouri, Iowa and Southern Illinois to help at the benefit, bringing donations and gifts that had gathered at each of their doorsteps.
As Darryl and Jenny Lenz deal with the blow that Sadie has stage 3 cancer, they also flow with thanksgiving for the outpouring of love and generosity throughout the community. Donations just came in. Potato salad and baked beans were being dropped off at our doors. There were gifts and auction items, often with no names.
"It is too overwhelming," Jenny said. "It is easier to be on the giving end. I've helped with a lot of benefits."
Jenny's niece from Des Moines, Iowa agreed. "This is what you want. You want it to overwhelm you-it's just an awesome thing!"
Brian Heap and Sara Lefler took charge to help make things happen, Jenny said. Karen Jack took care of the desserts, Mark Lefler donated two hogs, and Heap's Agricultural Service donated all the paper products plus they became a collection site for donations.
Drinks of ice tea and lemonade were furnished by Leflers and buns by Wonderbread/Chris Winters, everyone planning for 400.
Last weekend, using Kerry Poulter's cooker, Mark Lefler, Bryan and Blake Heap, Shane Reed, and Jim Hawk cooked the hogs, an all day venture.
Two hundred and fifty auction items were collected two days before Saturday and people wanted to bring more.
Gifts that were given for Sadie went into a Treasurer's Box," Jenny said, and "We use them to encourage her to take her medication.
Since Sadie is on the chemotherapy she has to take a lot of different medications, so they reward her with a gift from the "Treasurer Box" to help ease the pain.
Grandma Jenny said that Sadie is their comedian. She steals the doctor's flashlight so they can't see in her mouth.
Sadie loves animals, live ones and miniatures, and she collects the Littlest Pet Shop Collection. She has 7 puppies and 4 cats and a hamster.
She also started dance lessons at the YWCA where they noticed her stomach protruding and decided to have the doctors check it out.
They found the bulge to be a Wilms tumor, common in 3 year olds and is genetic. It is rare, however, to find it in both kidneys. Sadie has discreet markings in her left kidney, and more prominent tumor in the right.
Iowa City doctors, the same that worked with Angie Rankin of Raritan, are conferring with the European doctors who have the highest knowledge in Wilms tumors.
They therefore are shrinking the tumor using chemo, then after a cat scan and MRI on December 1st they will study and decide on surgery.
Because it has been found early, there is a good prognosis, Jennifer was told. But her sister Jeanne, an R.N. from Washington DC said, "Sadie has a tough road due to it striking both kidneys. We are extremely optimistic and very happy Iowa City called in the European team."
Financial figures are not in for the total Benefit, CPA Rick Schneider said, but it will be amazing. It took a lot of communication to pull this together. Items for auction were for Bulls tickets, NASCAR tickets, tons of seed corn and soybeans, Ducks Unlimited gun, 8 piece tool set, Iowa Hawkeye gift basket. People have been just wonderful.
Sadie is looking forward to her star birthday when she will be 4 on January 4th.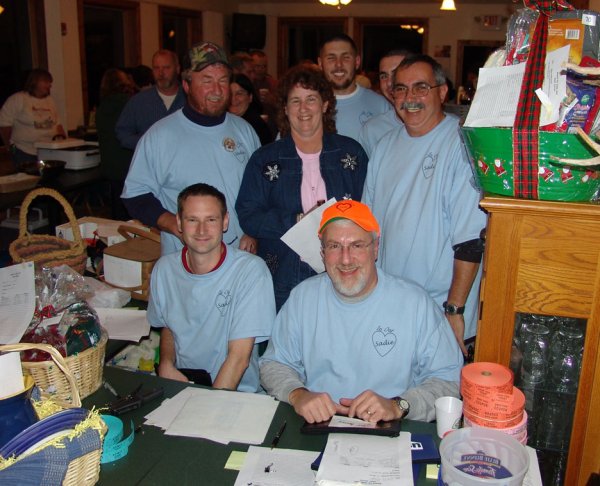 Sadie Lenz's grandmother, Jenny Lenz of rural Smithshire, is overwhelmed by the community support they've received to help meet the needs of her daughter Amanda, as she cares for her 3-year-old granddaughter Sadie. Sadie was diagnosed with stage 3 Wilms' tumor (cancer of the kidney) and is currently being treated at University of Iowa Hospitals in Iowa City.
Jenny is surrounded by a few members of her large family that were busy helping with various jobs at the Benefit. Her brothers and sisters and their spouses came from all parts of the United States to attend, all for the love of Sadie. The benefit was at Carthage Lake Clubhouse, rural route Carman.
-photo by Dessa Rodeffer/Quill
---