The Hancock-Henderson Quill, Inc.

---
Stronghurst Christmas Open House Enjoyed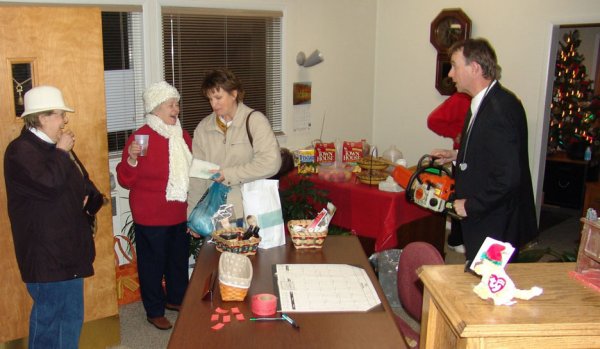 Judy Dowell and Joyce Louden are surprised with Dr. Isaac Harter's modern techniques in curing a pain as he pulled out a chain saw. He also had a hammer to knock them out, before he operated to insure there would be no pain."Sometimes they come back, sometimes they don't," he said. "In that case, we have a good undertaker in town." April Ashton is stunned with the Doctor's technique and decides to leave. The fun was at the Quill office during the Stronghurst Christmas Open House Friday evening where many businesses took part. Actor Dan Ashton, of rural Gladstone, played the part of Dr. Harter, the town's first doctor and first postmaster. Dr. Harter owned the first two buildings in town where The Quill is now situated.
---