The Hancock-Henderson Quill, Inc.

---
Meet Your Neighbor
By Holly Willdrick, Quill Reporter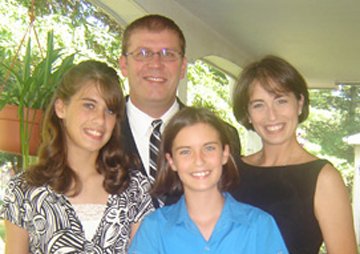 Meet Your Neighbor Jim Clayton, who grew up in Terre Haute, Indiana. After high school he went to the Army for five years as well as attending Indiana State University were he received a degree in Criminal Justice.
He was a police officer for the city of Terre Haute for five years, two of which he spent working undercover.
He went on to attend Rhema Bible College in Tulsa, OK with a major in youth. He returned to Indiana and did Marriage and Family Therapy as well as volunteering with the youth group at his local church.
It was during this time that he took the youth group to camp in Rushville, at the Faith Christian Family Church. Senior Pastor Gary had posted an opening for assistant pastor and Jim applied and was offered the position.
In December 2003 he made the move to Rushville. Over the past few years he has been very active with the youth and the church in Rushville. In December 2005 Pastor Greg Pratt from the Abundant Life Church was moving and Jim came down several Sundays to help fill in until another pastor could be found.
Jim really liked the church, the people, and the town and decided he would like to apply for the position. The board approved and his first official Sunday was one week after Easter. "I am excited to be here and want to grow the church."
He is excited about some changes that are happening in the church and looking forward to what the future hold for them. He would like to find a place here in La Harpe for him and his family. Currently they are still living in Rushville and he is making the drive over on Tuesdays, Thursdays, Fridays, and Sundays and is usually in the office from 9:00 a.m. to 3:00 p.m.
Sunday worship is at 10:00 a.m. and they offer children's and toddler church at this time. Youth group is on Sunday night at 6:00 p.m. and they have a mid-week service on Thursday nights at 7:00 p.m.
Jim and his wife, Jeanne, are in their 20th year of marriage and have two daughters, Jenna (13) and Rachel (12).
In his free time he likes to read. He sometimes has a many as three books going at once, but admits he usually has to put two aside and just focus on one. He also likes to golf, especially disc golf.
---