The Hancock-Henderson Quill, Inc.

---
Meet Your Neighbor
By Holly Willdrick, Quill Reporter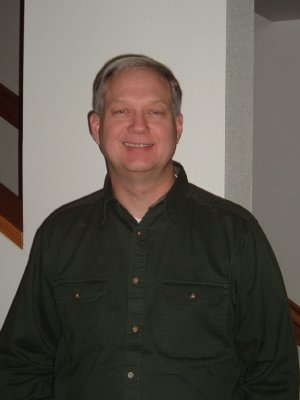 Meet Your Neighbor Bruce Goettsche of La Harpe who came to be the minister at the Union Church there almost 25 years ago.
Bruce is from the Chicago area and attended Trinity College and Northern Baptist and received his masters in Christian Education and Divinity.
He worked as an Interim Pastor at his parent's church before he took a position in Michigan as an Associate Pastor and after some time there started looking for positions in Illinois.
He found the Union Church and they liked him. He had met his wife, Maggie, in Michigan and had just gotten married in November and made the move to La Harpe in February.
Since he has come to La Harpe they have made several advancements at the church. They have their own webpage at www.unionchurch.com and also have his sermons broadcasted on several radio stations in the area.
On Sundays at 6:30 a.m. they can be heard on KBUR 1490am, KAYP 89.9 fm at 8:00 a.m. and 9:00 a.m. on 9.90am. On Monday, Wednesday, and Friday you can also tune in on KAYP at 9:00 a.m.
Bruce has also written four books.
Difficult People: Dealing With Those Who Drive You Crazy is a "practical handbook for dealing with the difficult people in your life". Bruce had some help from his son Rick on this book. He says this book would be great for small groups, Sunday school classes and leadership training.
Joy: Finding It, Keeping It carefully examines the words of Paul to discover principles we can apply to help us discover a joy that is unaffected by the prisons of our lives.
In Finding Your Way Through The Fog, Bruce looks at Paul's letter to the Colossians to uncover basic principles for a solid faith.
The last of his books is Faith Lessons: Lessons in Faith from Genesis. This book will help you understand and appreciate the message of Genesis like never before. It is a great to read before bed or during your devotional time.
When Bruce in not busy writing he enjoys reading. Bruce and Maggie will be celebrating their 25th Wedding Anniversary this month.
Maggie is the Director of Performance Improvement as MDH.
They have two children Rick (Sarah) who also works at the Union Church with his dad and Rachel who is at St. Ambrose and will graduate in 2007 and will go on to become a physical therapist.
They also have one grandson Gabe who is four.
---