The Hancock-Henderson Quill, Inc.

---
Community Spotlight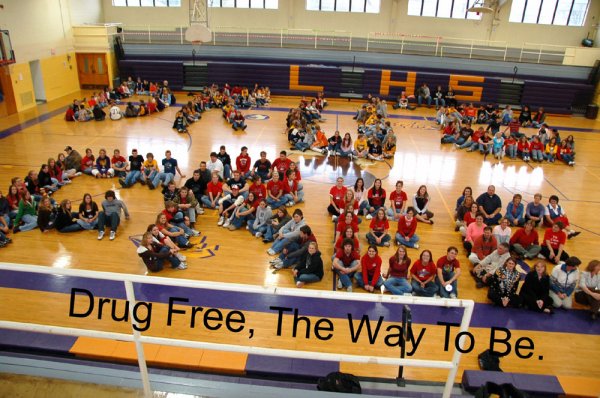 La Harpe Drug Free - That's The Way It Should Be
This past week the La Harpe High School and Jr. High joined in the fight to make their community drug free.
October 23-31 was national Red Ribbon Week. "Red Ribbon Week is about encouraging kids to be drug free and marking the progress that has been made, as many teens are choosing not to use drugs.
"This campaign provides communities with a forum to bring together parents, school and businesses as we look for new and innovative ways to keep kids drug free," stated DSHS Deputy Commissioner Dr. Dave Wanser.
The students kicked off the week with sweats day making the statement: "Living drug free is no sweat".
Tuesday was sunglasses or hat day, showing that they were too cool to do drugs.
Wednesday was wear a tie or tie things on your clothing, "Tie one on against drugs".
The final day was wear red, issuing a "Red Alert! Drug Free Zone".
The junior high also participated with pj day on Monday, disco day on Tuesday, western day on Wednesday, and old school day on Thursday.
On Thursday, the high school and junior high came together for an assembly. They were asked if they knew how Red Ribbon Week got started. One student did. A young man by the name of Enrique "Kiki" Camarena had hopes and dreams of one day making a difference. He worked his way through college and served in the Marines. After his time in the service he became a police officer and decided to join the U.S. Drug Enforcement Administration.
When his mother tried to talk him out of it he told her "I can't not do this. I am only one person, but I want to make a difference."
Camarena was sent to work undercover in Mexico investigating a major drug cartel believed to include Mexican army, police and government.
On Feb. 7, 1985, Camarena at the age of 37 was approached by five men on his way to meet his wife for lunch. They shoved him into a car and one month later his body was found in a shallow grave.
In order to honor his memory and his battle against illegal drugs, friends and neighbors began to wear red badges of satin.
The first Red Ribbon Week was organized in 1986 by parents concerned about the destruction caused by alcohol and drug abuse. The red ribbon was adopted as a symbol of the movement in honor of Camarena.
The Red Ribbon Week campaign has reached millions of children and has been recognized by the U.S. Congress.
Students were divided up by class and teachers helped them spell out "Drug Free". Daily drawings were each day for $10.00 and a coloring contest. Winners were announced and awarded their money only if they were wearing their red ribbon. According to campaign literature, Red Ribbon Week is a chance to be visible and vocal in your desire for a drug free community. Studies show that children are less likely to use alcohol and other drugs when parents and other role models are clear and consistent in their opposition to substance use and abuse. Talk to your children and let them know where you stand in the fight against drugs.
---