The Hancock-Henderson Quill, Inc.

---
Meet Your Neighbor
By Holly Willdrick/The Quill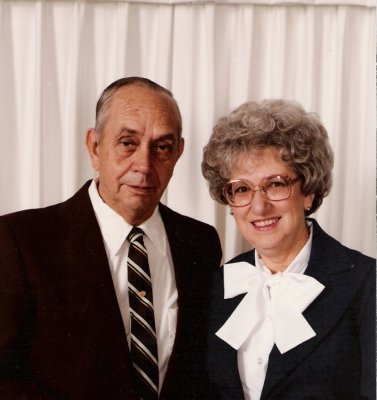 Meet your neighbor Dorothy (Breiner) Plank, who was born at her parent's home in Niota. Her father got a job working on the Ft. Madison bridge and moved his family to a farm in Fountain Green. They lived there for 10 years were she attended school before moving to a homestead of her ancestors in the country near Blandinsville.
Dorothy graduated from La Harpe High School, and went to California where she got a job with Manasco making struts for airplanes. During her time there her path crossed with William "Bill" Plank who asked her to a movie. She accepted, and the rest is history.
Bill was an Army survivor in the 45th Division out of Oklahoma from June 1942 to October 1945. He fought in the European Theater, Africa, Cecily, France, Italy, and Germany.
He was one of the many service men trapped on Ansio for 170 some days under fire. They were on the beach with Germany firing down on them.
During his time in service he was involved in two jeep accidents for which he received a purple heart for both. During leave he came home to California and married Dorothy.
Bill returned to finish serving his time and Dorothy remained in California until it was time for him to come home. When that time came they returned to LaHarpe to make a home. After awhile they moved to Phoenix, AZ where they lived for around 40 years. After Bill passed away in 1991, Dorothy decided to once again make LaHarpe her home. Upon her return she became a member of the American Legion Auxiliary and served as president for 9 years.
She is still an active member and has worked on many projects here in the community. She is responsible for the wonderful Memorial Day service in the park each year as well as the brick memorial that has been constructed in the park to honor all veterans. She also gathers books, puzzles, clothes, wheelchairs, walkers, and lap blankets to be sent to the veterans at the Welcome Corner in Galesburg.
Dorothy and Bill are parents of Nancy Culp of Des Moines, IA and Marty Plank of Sacramento, CA.
She is blessed with two grandsons, Tony and Toby of Denver, CO and two great grandchildren Madison and Alex. Dorothy enjoys traveling, cooking, and oil painting.
---