The Hancock-Henderson Quill, Inc.

---
The 2006 La Harpe High Graduates
by Dessa Rodeffer, Quill Publisher
Valedictorian Michelle Kornegay told her classmates, during 2006 graduation exercises, to take the time to appreciate the people in your lives who have been there along the way.
"The support we receive from our family and friends is invaluable. Look around you. Every person sitting here...is here for us."
A large assembly of friends and family filled the La Harpe gymnasium Sunday, May 21 in celebration of thirty-five graduating seniors.
After the presentation of the colors by the American Legion Post 301, Darrell Kraft led in the Pledge of Allegiance. The invocation was given by their Class President Alex Rodeffer.
Superintendent Jo Campbell welcomed the class saying, "Your family, parents, and teachers have prepared you well. Your successes are numerous. Much is expected of you and I am sure you are up to the challenge!" he said.
Mary Ann Kane, awarded the DAR Good Citizenship to Justin Hobby and Madison Beals.
Dale Kraft representing the La Harpe American Legion Post 301, awarded the legion's highest honors to Lisa Irish, 2006 class vice president and to Justin Sparrow.
Music Selections were performed directed by Ms. Mencel, ""Find Your Wings" by the Senior ensemble and "In the Shadow Of your wings" by the La Harpe Senior High choir.
Kornagay said, ""As I look back over the past four years, there is one word that stands out," Michelle said. "Integrity: a firm adherence to a code or a standard of values. A word not understood by many, for its respect has been lost over the years."
"In a world where acceptance is desired more than individualism we stand the risk of losing ourselves and our values.
"Throughout high school we have seen examples of integrity:even when under pressure never made that an excuse for bad behavior.
"We can be who we are meant to be, or who everyone wants us to be. It is up to us to decide our destination."
In Kelli Burr's Salutatory address, she reminded classmates to "never forget the little things about each other that make each of us unique and special. One of the best things about growing up in La Harpe is having the opportunity to really get to know people instead of just meeting them. I feel privileged to have spent so much of my life here getting to know all of you. "I do not feel sad that these are the last memories we will make of our high school years. We now have our roots, and it is time for us to go out and find our wings."
Kelli said to her classmates: "hold on to the memories and your past, but don't ever stop trying to make a positive mark on the future."
After the diplomas were given out by Principal Lila McKeown and Board President Dan Horton, the class threw their hats into the air in celebration.
Then class member John Bruns, closed with the Benediction and the Colors were retired by the American Legion Post 301.
The seniors recessed to the front walk of the high school where many congratulated the class of 2006.
"The memories we've shared, the times we've had together, they will stay with us always-good-bye is not forever." -The class of 2006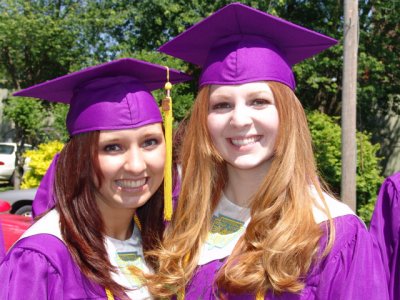 From left is Valedictorian Michelle Kornegay and Salutatorian Kelli Burr.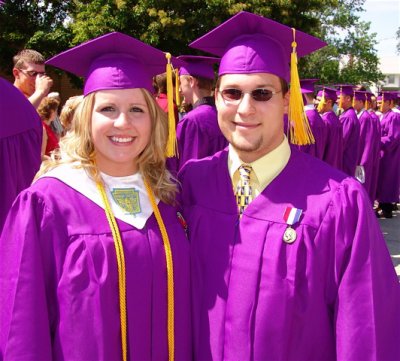 From left is DAR Good Citizens Madison Beals and Justin Hobby.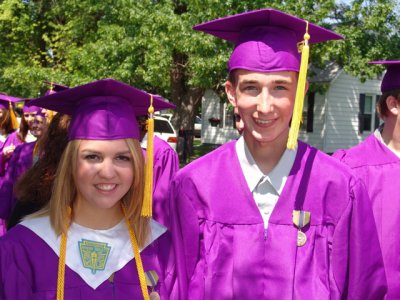 From left is Highest Honors Lisa Irish and Justin Sparrow
---