The Hancock-Henderson Quill, Inc.

---
On Stage Band I n La Harpe
By Holly Willdrick, Quill Staff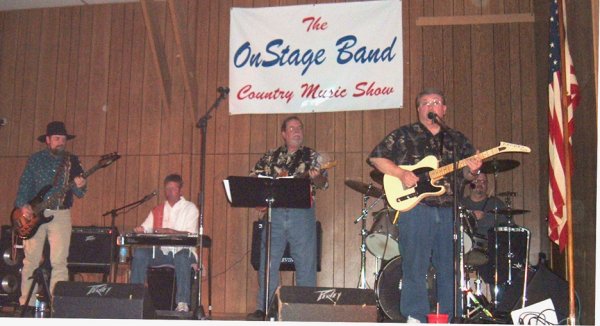 The "On Stage Band" is a country music show that has been performing at the Club House for the last few months.
They are a five piece band with members Stan Creasey, Justin Royer, Jerry Bratcher, Larry Louderman, and Bob Rolland.
They used to play in clubs and bars, but really wanted to do more private shows. Now they play at small town fairs, weddings, and private parties, as well as shows in the local communities.
They play classic country and 50's and 60's rock, but also take request from the audience and do their best to fulfill them. If they don't know it, they will try to get it ready for the next show. "It is all about the music and the fun we have to us" stated band member Jerry Bratcher.
Their goal is to provide an inexpensive night of entertainment for small communities. "La Harpe is a great location for us." It is a central location for several small communities. People have come from Macomb, Colchester, Blandinsville, Lomax, and several other area communities.
There is a cover charge and they do also offer a few refreshments during their show. They like to have a local talent featured at each months show.
If you would like to be a special guest you can contact Stan Creasey at 309-776-4339 or Jerry Bratcher at 309-836-6485.
Although this was their last show for the summer, they will be back in September. They are looking forward to coming back and bringing a new show. They have also talked about trying to have a gospel show on Sunday nights, but don't have anything solid at this time.
They are also looking for sponsors for their shows. The La Harpe Telephone Company and Clover's Tire Shop have been the sponsors for the shows here in La Harpe.
They would also like to let the community know that they will be performing at the Summerfest this year and are looking forward to it.
---