The Hancock-Henderson Quill, Inc.

---
"Out To Lunch With Keith & Don"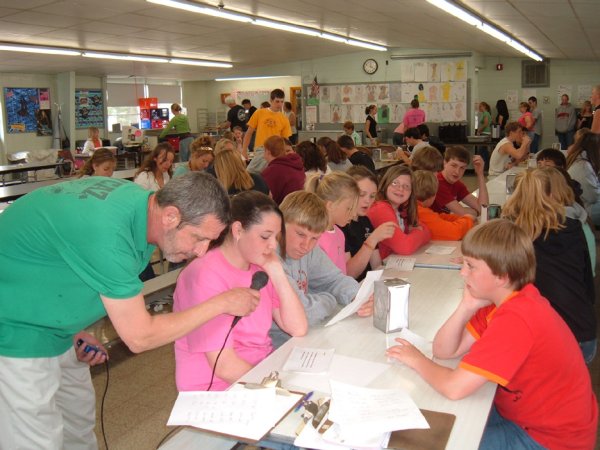 WCAZ radio out of Carthage came to the La Harpe cafeteria to record their show. "Out to lunch with Keith and Don" is just what it says.
They travel to the schools in the district and have lunch with the students and have them read the news on the radio.
This program got started when they were invited to Southeastern Jr High to try Bosco Sticks. They had such a good time that they decided to take their show on the road and let the kids be part of it. They record the kids and then play it back the next morning so that they have a chance to listen before leaving for school.
This year the 6th and 8th grade students were selected. Participants from the 6th grade class were Molly Brown, Kelly Adkisson, Carly Roberts, Salina Hicks, Ashley Kerfoot, Hayden Fox, Ashley Hall and Ashely Cox. They read the local news.
Participants from the 8th grade class were Andrew McCleary, Ashley Ollin, Jessica Horton, Erica Johnson, Brickston Mellinger, Rod Rodeffer, Tanisha Wisslead, Mason Beals, Tiffany Mohr, Krista Kelly, Amanda Jade, Brian Lafferty, Colin Beals, and Andrew McCune. They read the church news and community calendar.
---