The Hancock-Henderson Quill, Inc.

---
West Central Breezes Thru The Heat of a 1st Year
by Dessa Rodeffer, Quill Publisher
The West Central Class of 2006 were finally celebrating the end of a year full of anticipation and much change.
But as Erika Ensminger reminded them in her Valedictory speech, "If nothing ever changed, there would be no butterflies."
The seniors at both Union and Southern wanted to graduate with their friends, and in the school they had been in since Kindergarten.
But, it wasn't to be.
"With a cast of a ballot, everything changed for us our Junior year, and we were not happy," Erika said.
But, at West Central, they made new friends while they faced daily change, she said,
"When you embrace change and adversity, it makes one stronger. Failure to accept changes is failure to grow."
"Let's become that butterfly," Erika concluded. "Let's get out of that cocoon" and fly....
West Central announced three Valedictorians and three Salutatorians during their first graduation ceremonies Saturday afternoon, May 13, 2006.
Out of a graduating class of 94 seniors three Valedictorians were elected with 4.00 GPA or better:
Erika Ensminger (South Campus) Lene Lox and Jacob Sanning (North Campus) are Valedictorians.
Blake Byers (North Campus), and Gerry Roark and Ciara Robinson (South Campus) are the Salutatorians.
Lene Lox, reminded classmates of the "many new rules" and the advice often received, but also the accomplishments including a near Sectional win by the girls in basketball.
Her final words of advice were from Garfield:
"Life's short. Eat now."
Jacob Sanning gave thanks to his parents in appreciation for all they had done for him, and then told classmates, they are told this is the best time of our lives.
"If it is, then why do we leave?"
"I sincerely hope high school is not the best time of our lives.
Sanning said, "We are finally ready," and he wished classmates the "Best of Luck!".
The Salutatorians spoke afterwards with Blake Byers emphasizing that what they do in the future is much more important than whether you are an A or A- student.
Gerry Roark encouraged classmates saying, "Go confidently in the direction of your dreams."
"Everyone strive to be your best, work hard, and be dedicated," he advised. It takes will-power and strength of mind." He also thanked family, friends, and teachers.
Ciara Robinson, said she wished there was more time to get to know her new friends better.
"All I have had is one year, and I have loved every bit of it. To my old friends and my new, I will always remember you," she said. "West Central challenged us with an experience that brought us together as strangers, and we formed friendships that will be in our memories that will remain with us as long as time will allow."
West Central Superintendent Ralph Grimm said, "I want to say thank you to the senior class. What an awesome, awesome job you have done."
"I have been very fortunate to work with groups of people who implement change and I think what I am going to do from now on is point to the class of 2006 as the perfect class study."
"The Union Yankees and the Southern Rebels. Who would have thought."
Grimm said, "You have undergone some tremendous changes in your young life, and over the course of your last year, and I basically want to tell you two things.
"As you already know change is not fatal. And without change there can be no growth. So my challenge to you as you move forward is to continue to look for things that you can change because it is through that process you will truly grow."
Grimm presented the class for graduation and School board president Dr. Lonnie Brent, handed out diplomas.
Dr. Brent also thanked the community, the staff and the board members for the time and the commitment they have given to make the West Central School Consolidation a success.
High School Principal Mrs, Karen Rima told seniors it has been a great joy to watch their successes and to see them mature.
"At the beginning of each year I tell myself, "Life doesn't get any better than this. I wish that for you when you start your careers."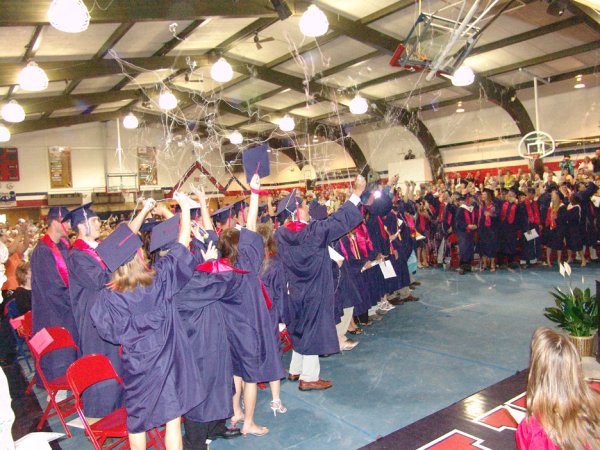 West Central graduates celebrate their graduation before the Processional Saturday afternoon.
Blake Byers North Campus Salutatorian son of Mr. and Mrs. Kenny Byers
Lene Lox North Campus Co-Valedictorian daughter of Mr. and Mrs. Jeffrey Lox
Jacob Sanning North Campus Co-Valedictorian son of Mr. and Mrs. Dave Sanning
Erika Ensminger South Campus Valedictorian daughter of Mr. and Mrs. Todd Ensminger
Gerry Roark South Campus Co-Salutatorian son of Mr. and Mrs. Nick Roark
Ciara Robinson South Campus Co-Salutatorian daughter of Ms. Tanya Robinson and Mr. and Mrs. Ora Robinson.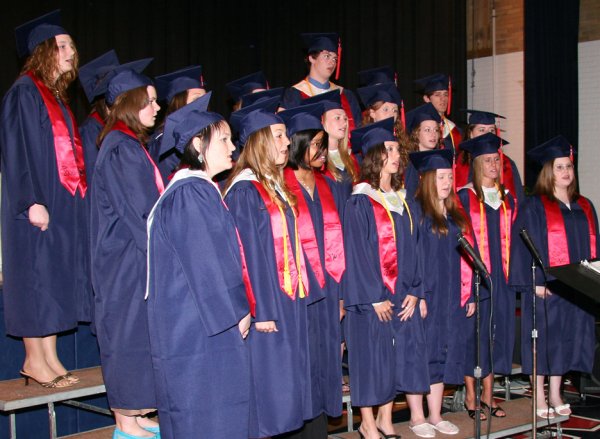 Senior Chorus sang "For Good," and later a senior chorus sang "You Raised Me Up." -photo by Phil Geiser/WC Photo Club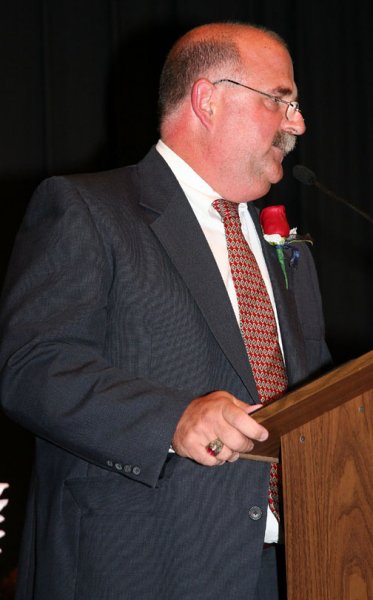 West Central Supt. Ralph Grimm -photo by Cole Photography
---