The Hancock-Henderson Quill, Inc.

---
Biggsville Groundbreaking For Horse & Buggy Museum
May 5, 2006, Biggsville, Illinois
Mary Lynn Watson Weibel and her mother Joanna Watson were the first relatives to turn the first shovel of dirt at the ground breaking ceremony Friday morning for the Horse and Buggy Museum being constructed in Biggsville.
The Watson name is significant in relation to the museum because upon its completion it will be dedicated to Elisha Watson, 1793-1858.
Elisha Watson arrived in Henderson County in 1837. Mary Lynn is related to Elisha (Sr.) by way of Wayne (1917), Guy (1888), Levi (1860), Elisha Jr (1824).
Elisha Sr. and his wife, Marilla, came to Olena, from Oswego, New York. Traveling with them were their four children: Lewis (1820), Hezekiah (1822), Elisha Jr. (1824), and Lambert (1837).
The trip was made all the way to Oquawka by canal, lake, and river. Lewis farmed until the Civil War, where he was reported missing in action.
Hezekiah died in Biggsville, where he ran a florist and gardening business.
Lambert's family did not continue on in Henderson County; however, the Elisha Jr. family of eight children (Nancy, Hulda, Emiline, Olive, Levi, Henry, Albert and Lyman) continue to have descendants in Henderson County through Olive and Levi.
Olive married Charles Sargent and her oldest living blood relatives in Henderson County are Dwight Sargent and his sister Mary Ann. Dwight's son, Byron, daughter Marian, granddaughters, Morgan and Alexandra, also live in Henderson County. Mary Ann Crum and daughter, Cindy Shamblin, live in Oquawka.
The Sargent family farm in Rozetta Township was the site of a sod house used for a year by Levi and Olive while they constructed frame houses.
Although most of the old buildings are now gone, there are still root cellars, pear orchards, roads and hedge rows built by the descendants of Elisha Watson on the Sargent farm.
Levi had six children: Guy (1888), Harvey (1884), Ella (1887), Fred (1895), Maude (1897) and Ethel (1900); three of which still have descendants in Henderson County.
Mary Lynn Weibel goes back to Guy. Roger Kelly and son, Clark, and granddaughter, Kendra, go back to Maude. Ella's daughter, Lucille Zielke, and grandson, Joe, live in Henderson County. Don Simmons and Bruce and Brian Smith, Biggsville, and Bea Day, Media, also go back to Ella. Many of the descendants living in the area were present for the ground breaking.
When the museum is dedicated in September, a complete family history of Elisha Watson Jr., will recognize all descendants including those not currently living in Henderson County.
The new construction is on the lot adjacent to the old Henderson County Library. The old library will also become part of the museum complex.
The museum will display only horse related items to include buggies and farm equipment. Most of the items to be displayed are owned by Jerry and Mary Lynn; however, a few items will be on loan from other families.
Jerry owns several teams of horses and farms a bit using his horses and antique tractors, combines, and corn pickers.
Jerry's main work horses are Percherons, although he does keep a team of Halflingers and some ponies. Jerry and his grandchildren plowed, disked, harrowed, and planted corn and oats this spring with horses.
Last summer the horses were used to cultivate corn and to mow, rake, and bale hay. In the fall the horses were used to pick corn by hand and with a power forecart. The horses have also been used in logging and stump pulling.
A current project is building a dry dam and dirt road using the horses. When there is no work to be done the horses are used on the ride wagon, bobsled, and horse camper.
The museum is not Jerry and Mary Lynn's first involvement in living history and historic preservation.
Jerry and Mary Lynn own the Cedar Oak one-room school which has been preserved to an un-restored state and from time to time has been open to the public.
They have also sponsored historic farming demonstrations on their farm during Heritage Trail weekend as well as being involved for many years in the annual 3-day trail ride across the county.
For several years, Jerry volunteered at the Living History Farm in Des Moines, Iowa. Horse equipment has been put on display and demonstrated at the Phelps House, the Old Time Farm Show, the high school, and in support of youth, 4-H and church activities. J
erry has worked with a number of groups promoting tourism and economic development as well as historic preservation and beautification.
A group is currently looking into moving the old school into a park where it can be enjoyed by more people.
Jerry and Mary Lynn have a strong interest in supporting local business and are using only Henderson County businesses to provide the material and labor for the new museum.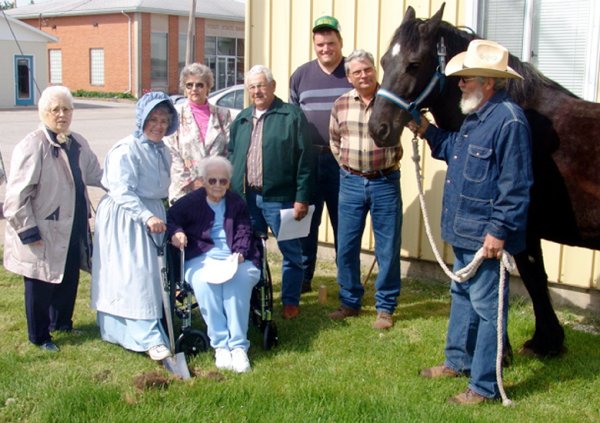 Decendants of Elisha Watson, to whom a new horse and buggy museum will be dedicated to, took part in a groundbreaking ceremony Friday morning in Biggsville. From left is Joanna Watson, her daughter Mary Lynn Watson Weibel (shovel in hand), Lucille Welch Zielke (in chair), Laura Mae Beattie, Roger Kelly, Dwight Sargent his son Byron behind, and Jerry Weibel with one of his draft horses, a reminder of the horse and buggy days.
---