The Hancock-Henderson Quill, Inc.

---
Stan Fisher, Avid Supporter Of School and Summer Softball Remembered
A memorial service was held on Friday, April 28th prior to the HEAT baseball and softball games in memory of the late Stan Fisher of Stronghurst an avid supporter of the school and summer baseball programs
Fisher, past president of the Southern School board died in February this year after suffering an heart attack at his home.
Purple balloons were given to each softball team member and orange balloons were given each boy baseball team member as they lined up along the softball diamond, with Stan's wife Sally Fisher and her family. After the National Anthem was played, Todd Ensminger told of the many things Stan had done over the years to support youth ball.
He instigated the building of the softball field and the reburbishing of the baseball field with Sally running the concession stand.
"The biggest gift Stan gave was his involvement in the children's lives," Todd said in the pre-game ceremony.
"Kids played ball just to be around Stan. ...He was a real source of inspiration to youth softball."
Todd presented Sally and the family with a large memorial that read "2006, In Memory of: Stan Fisher," to show their gratitude.
The HEAT team members released the balloons in Stan's memory, and then took the field to play ball against their Southeastern opponents.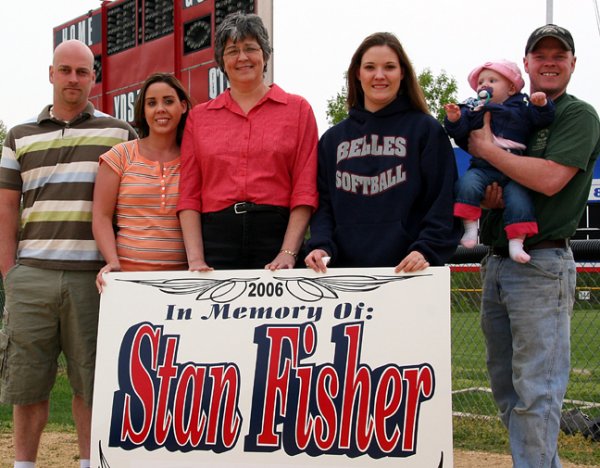 The family of the late Stan Fisher, an avid supporter of youth baseball at a memorial ceremony held in his honor prior to the "Heat" baseball game last week. From left is: Landon Yard and Jacqueline Fisher, Stan's wife Sally Fisher, Samantha and Matt Cooper with their daughter Matti.
---