The Hancock-Henderson Quill, Inc.

---
Meet Your Neighbor
By Holly Willdrick/The Quill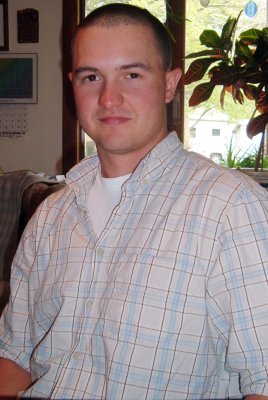 Meet Your Neighbor, Soldier Specialist Shaun Thompson, son of Mark Thompson and Brad and Brenda Burt.
He is the grandson of Bill and Judy Burt, Larry and June Boone, Nick and Linda Thompson, and Great Grandson of Elizabeth Creasey and Opal Browning.
He has one brother, Garett Burt and one sister, Mallory Thompson.
Shaun is a 2002 graduate form La Harpe High School. He enlisted in the Army Reserve and became a member of the Bravo 2/123rd Company his junior year at the age of 17. He graduated from basic training at Fort Sill, OK in the summer of 2001.
After he finished high school he went back to Fort Sill for advanced individual training. In the fall of 2002 Shaun started college at Western Illinois University. His Junior year at WIU, Shaun withdrew when he was called into active duty.
October 27, 2004 Shaun left for Fort Dix in New Jersey. For two weeks he was trained in Iraqi customs, language, and culture.
He spent two more weeks in a field in tents in the rain and practiced shooting all the various shooting systems.
After a 6 day Christmas break at home, he left for Kuwait for more training. After three more weeks of training they flew into LSA Anaconda to then convoy out 2 1/2 hours northeast of Baghdad.
He was able to take leave and come home for a couple of weeks around his birthday in August. Shaun returned to Baghdad until Dec. 2005.
Shaun said that it was a good experience and an eye opener. He was able to see how other people around the world live. The hardest part about being away was having to leave his family and girlfriend. He also missed the tacos, green trees and grass and a good bed.
Shaun spent 9 months sleeping in a tent with 7 other guys, before they were moved to a trailer. "There were days that the sand storms would be so bad that you would take a shower and by the time we would get back to the tent you would be covered in dirt again." So it was nice to come and home and take a nice warm shower.
During his active duty Shaun kept a journal and made it a point to write something everyday, even if it was to say they did nothing. He is very grateful for all the prayers, letters and care packages he received from home. It would take about two weeks for him to receive letters from home.
It didn't take as long for letters to get back home, but all of his out going mail had to be searched to make sure that he wasn't saying or sending things he should not.
Shaun is now living in Sciota and working at Wal-Mart in Macomb. He will be returning to WIU this fall as a Junior.
He also has National Guard meetings one weekend a month and two weeks in the summer.
In his free time he enjoys anything outdoors, from hunting and fishing to landscaping.
---