The Hancock-Henderson Quill, Inc.

---
HOMETOWN GIRL, COUNTY TREASURER
Highest Vote-Getter In Primary Election
by Dessa Rodeffer, Quill Pubisher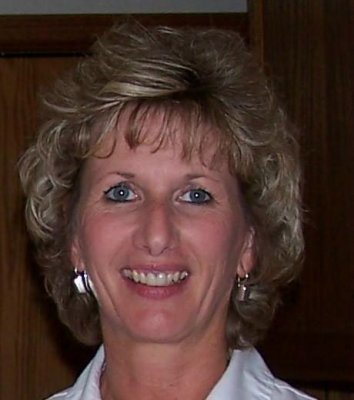 The results of last week's Primary Election, showed Hancock County Treasurer Kris Pilkington receiving 2,115 votes, the highest of any candidate on both Democratic and Republican ballots. Kris ran unopposed on the Republican ballot.
Hancock County Sheriff John Jefferson (R), was twenty votes behind Kris with 2,095 votes.
Although both are unopposed in the Primary, each will have an opponent in November. Democrats gave Beverly Markey (D) 795 votes and will be seeking Kris's position as Treasurer, and they gave Scott Floyd (D) 698 votes who will be challenging Sheriff Jefferson in November.
Democrats gave their highest vote to County Clerk Kerry Asbridge with 934 votes, who is running unopposed in the General Election.
Kris Pilkington may be better remembered by some of you as Kris Butler. Born in the historic La Harpe Hospital, Kris grew up on a farm in Durham Township, the youngest of four children of the late George and Mary Jeanne Butler.
She attended Durham school until the consolidation of the Ft. Green, Durham, Terre Haute, and La Harpe grade schools. Fifth through eighth grades were at Terre Haute where she was in the band and a cheerleader the year the 8th grade boys went to State and the Terre Haute Indians made it to the final four.
Kris has always been actively involved and high school was no exception. She enjoyed playing in the band until scheduling conflicts with college prep courses occurred and she was forced to quit.
"I appreciate what the convergence will do for students with dilemmas such as these, by giving them many more scheduling options."
Girl's sports were offered and Kris played basketball, volleyball, and softball while continuing to be a cheerleader for boys' baskeball and football. She graduated in 1976, the Salutatorian of her class.
"My high school years were some of the best times of my life, and La Harpe was a great little town to grow up in."
After graduating with an Associates Degree in Accounting from Carl Sandburg, Kris moved to Carthage where she worked four years at Burlington Road builders. She later went to work for Chem Gro for 16 years before deciding to run for Hancock County Treasurer.
"I have always enjoyed working with people and being actively involved in the community," Kris said, "and I saw this as an opportunity to work for and help the entire county."
Kris and her husband Rick are both lifetime residents of Hancock County and have 3 children and one grandchild.
Kris was elected Hancock County Treasurer in 2002 and says she has enjoyed every moment of it. She considers it an honor and a privilege to serve and is thankful for the opportunity.
While in office Kris says she has made more payment options available to the taxpayer.
"The Treasurer's office now accepts Discover payments over the counter and IVR payments (over the phone voice activated) with any major credit card.
"State payments are now ACH deposits that go directly into the county account to earn interest, rather than waiting for the checks to be cut and mailed from the state.
"Receipts are computer generated rather than hand written, and tax payments from tax services are processed from a computer generated file rather than on paper and hand entered."
Kris feels it is important to take advantage of Treasurer Zone meetings and financial workshops offered by the state to further her education and keep Hancock County up-to-date on changing laws.
"I have used my education and accounting experience to keep the County Board informed on the financial position of the county by submitting quarterly reports and interim reports whenever necessary," she explained.
"All distributions of property tax money, including mobile home & interest, are now done by the end of the fiscal year showing a true financial picture to the County Board with revenue and expenses recorded in the same year."
"We have also held two "Cash Dashes" in the county in conjunction with the State Treasurer's office in an effort to return unclaimed property held by the state to its rightful owners in Hancock County."
Kris says she will continue to look for ways to better serve the citizens of Hancock County and to further automate her office. She hopes to be given the privilege to continue putting her education and experience to work for the county by being re-elected this fall.
---