The Hancock-Henderson Quill, Inc.

---
Ty Hoffmeister On Final Round Of "The Knight Show" Sunday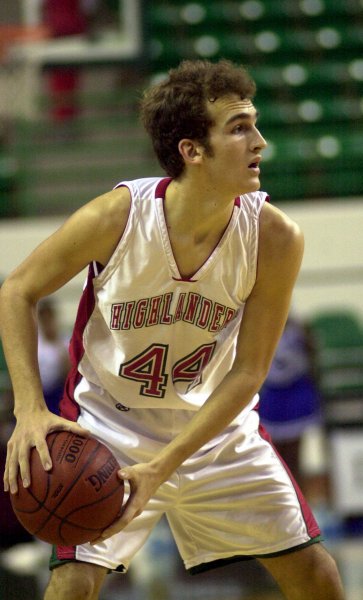 Bob Hoffmeister, former La Harpe resident from Woodlands, Texas has exciting news of his son who has been appearing on an ESPN reality show.
Tyler Hoffmeister, 21, from The Woodlands, Texas, a Houston suburb, is on national TV in "Knight School" on ESPN. It has been on for five weeks and this Sunday, March 26, 2006 at 9:00 PM CST, the last show will air.
The show features Bobby Knight, the famous basketball coach and his staff. They solicited students from Texas Tech to be put through six weeks of rigorous physical and mental anguish to get a chance for a "walk on" position on the Texas Tech Varsity Basketball Team, for next season. Tech is a Division 1 school in the Big 12 Conference coached by the famous Bobby Knight.
"Knight is the second winningest coach in the history of basketball, and known for graduating his players," said Tyler's dad.
Tyler received an email that they were going to do this. He was one of 140 who applied. The number was cut down to 60 after an interview, and then the boys shot around and the group was cut again.
The show started out with thirty two young men and is now down to the last two, Tyler included.
Friends of Tyler's father in La Harpe, have been watching the show but now are pretty excited to think, "Ty" is this close to being the one.
The La Harpe community may remember Ty's father who graduated from La Harpe in 1968 and went on to WIU and became a teacher for three years in Ottawa He and his wife moved to Castle Rock, CO and later to Houston area Tyler played ball at The Woodlands high school, the largest high school in Texas.
Tyler is the grandson of the late Kurt and Betty Hoffmeister who owned and operated "Kurt's Red and White Super Market" on Main Street for over twenty years.
"The Quill printed a picture of Tyler shooting a basketball when he was two years old, nineteen years ago submitted by his proud grandma," Bob said.
"I have been a subscriber for 25 years or more. I think it goes without saying that I enjoy my home town paper immensely. Please tell Suzanne Miller I am particularly fond of her "Pioneer People" articles. She should know who I am. "
Turn on ESPN Sunday at 9 p.m. central time for the final episode with Tyler. He has already done some pretty amazing things conditioning for the game including carrying an 80 pound backpack up 12 flights of stairs and back. They have read to kids in grade schools, went to the county fair, and did some climbing on zip lines up trees and poles to climb in "team building activities" They climbed to the top of a telephone pole and from there stood and had to jump 10 feet to catch a swinging trapeze. The last couple weeks they played against some of the Texas Tech players as well.
"All these things, Bobby Knight related, are for the metal tenacity needed on the basketball court, such as being able to think when tired. Most games are won and lost in the last seconds of a game."
Bob has a brother Ken (Jean) in Fort Madison, Iowa, and a brother Bill (Sue) in New Mexico, and a sister Wilma (Phil) Nielsen in Sioux City, Iowa.
Turn on ESPN at 9 p.m. for the last episode of the "Knight Show" to see if Tyler wins a shot at a walk on position Bobby Knight's big 12 school.
---