The Hancock-Henderson Quill, Inc.

---
Meet Your Neighbor
By Holly Willdrick/The Quill
Meet your neighbors, Marty and Hande (pronounced Hahn-day) Burdg.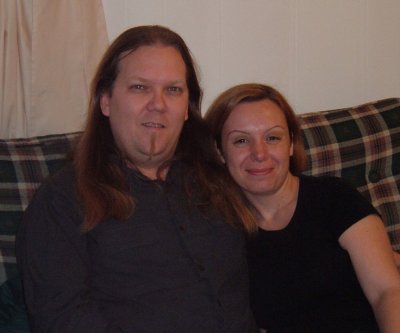 Marty was born in Westminster, CA and Hande was born in Turkey. They met while Hande was on vacation in California, where he attended a concert and they spent the next couple of days together seeing the sights.
They thought it would be "goodbye forever", but Marty made the trip to Turkey for them to get married. After getting married in Turkey, which was no easy task, they spent their honeymoon on the Bosphorus in Istanbul and returned to California to begin their life together.
Marty has three children from a previous marriage, Tracy who lives in Anchorage, Alaska and two sons Josh (14) and Jacob (8) whom they are raising.
Marty's mother grew up here. His grandparents, Harley and Shirley Palmer, also live here and expressed their wish to have them live closer and they jumped at the chance. It was an "opportunity for a better way of life than California was offering". Now, being close to them and other family members, like Marty's uncle Lee Robbins, they have met other family members they didn't know they had and "it has been great!" he said.
Marty attended college for two years with an interest in Business Administration and Hande has a Masters Degree in French Literature from a major university in Ankara (the Turkish capital).
They now focus their goals towards their home based business. Marty sells rare music and a record cleaner of his own design. He also puts people's tapes and records onto CDs using computer software.
Hande sells her handmade crafts through this small business. She makes hooked and penny rugs and also sells her handmade polymer clay and glass beads.
When they are not busy with business they love spending that "extra" time with their boys and they have a love for music. Marty sang in a rock group and had a CD cut. Hande sang in a Jazz and Rock group at hotels around popular tourist sights in Turkey.
They like to read history, musicology, and theology books. They are looking forward to Josh going out for the football team this next season and attending his games.
---