The Hancock-Henderson Quill, Inc.

---
Sesquicentennial Committee hoping "Y'all will come to Raritan" July 1-4
by Dessa Rodeffer - Quill Publisher/Owner
Final details are being fine-tuned for the village of Raritan's 150th birthday celebration which begins early Saturday, July 1st with a leisurely bike ride and run, and ends Tuesday, July 4 with the Historical Society's Chicken & Pork Chop BBQ dinner. On the evening prior, an extra special fireworks display will be at dusk on the Moore Brothers farm near Raritan.
You may think all the preparations were accomplished in the past year, but actually these kind of events go on continually for this community minded village of 150 residents.
There always is something of historic nature going on, or that is being cared for by this amazing community who treasures the heritage they have been given.
Most who live in Raritan take an active part in the community events with this year's Sesquicentennial Committee co-chaired by Art Kane and Earl Waller, with Paula Stull and Jean Ann Livermore co-secretaries, and Alta Mae Brokaw, the treasurer.
Special committees are Paula Stull, Carla Magee, and Jean Ann Livermore chairing the Raritan Cookbook Committee; Jim and Doris Cook, with Janet Brokaw and Roberta Hangar on the Raritan History Book Committee; the Raritan Volunteer Firemen take care of the Parade; and Jean Ann Livermore and Donna Powless are in charge of vendors, plus many others contributing in many different areas.
These chairs represent the heart of Raritan's people, from Raritan Bank President Art Kane, to Jim Cook (retired) full-time (volunteer) Director of the Henderson County Museum which showcases four buildings in Raritan of historical memorabilia. Both of these men could be called the county's "Mr. History" as well as Raritan's, but again, history is about a lot of people working together. It takes communicating facts, and someone else willing to listen which is getting rarer in today's "I'm much too busy" society. It also takes someone joting down facts, another taking pictures, and yet another who can assemble the facts in some way, whether in book form, a movie, or scrapbook. And, if you are lucky enough in a community, you will find an entertaining writer nearby that is talented enough to take the ordinary facts of a village, and put them all together in an very entertaining play to teach others about the life of a community.
The committee is fortunate enough to have playwriter Dan Ashton of Gladstone in their midst who produced the play "A Town Called Raritan" which is being directed by the talented and accomplished actress Diana Taylor of Media. It is to be Sunday, July 2nd at 7 pm at the air conditioned and historic Raritan Opera House followed by a birthday party at 8 pm which includes cake for all.
A lot of preparations have been going on around town including the latest event held, the Raritan State Bank Open House this past Saturday where the public could view its large two-story addition.
Raritan is all spruced up and ready for a party. Are you ready for some fun? The people of Raritan have pulled out all the stops and are rolling out the red carpeting hoping y'all will come.
A detailed ad of the schedule of events is on page 5.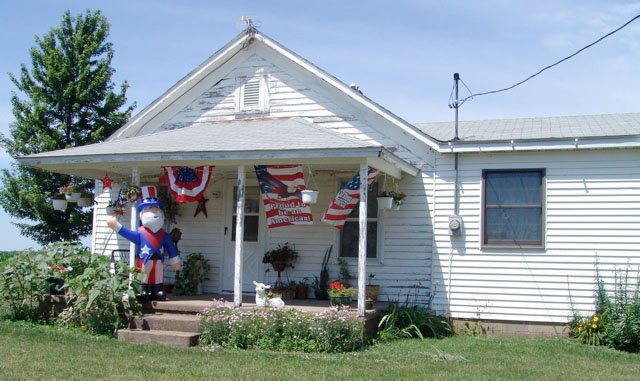 Homes welcome you in Raritan such as this one on Evergreen Street with a "Proud to be An American" hanging swinging from the porch ceiling and "Uncle Sam" giving a friendly wave at Ted and Paula Stull's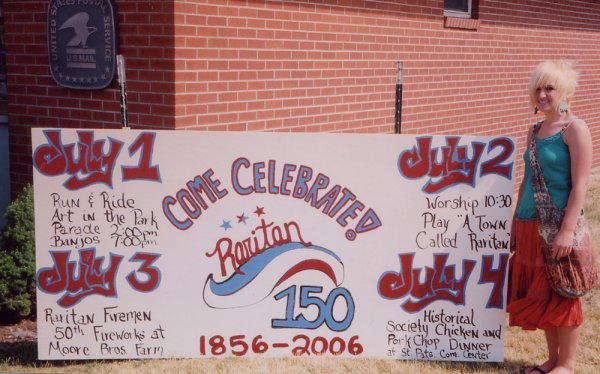 Miss Kylee Hendrickson of Raritan was the artist that painted this sign to invite everyone to Raritan's celebration. She also painted signs for the park benches and history books and did a great job.
---