The Hancock-Henderson Quill, Inc.

---
Catherine Burg, After Thirty Years Of Leading 4-Hers Looks Forward To Another Fair
by Dessa Rodeffer - Quill Publisher/Owner
Where does all the energy come from?
Youth and Teens in 4-H seem to be full of energy.
Where do all the ideas come from for 4-H projects?
4-Hers enter everything from livestock care to child care, and from computers and small engines, to scrapbooking and gardening.
The motivation, that pulls today's youth away from the TV set and into the yard to plant flowers, clean a stall, or bake cookies for their next Club fundraiser is a good 4-H leader that makes learning fun.
One of those leaders the past thirty years, has been Catherine Burg, a farm wife who lives outside of Stronghurst with her husband Byron.
The couple have three grown children, Brent, Diana, and Valerie, who all know the fun of the county fair.
"Parents help is one of the biggest things," Catherine said. "We have a lot of help from home."
Last Saturday evening's 4-H Chicken and Pork BBQ was a good example of that, the 4-H organization's only fundraiser that helps pay for a variety of things but mostly project manuals for all the 4-H members provided to them at no cost.
Each club has responsibilities. The Hustlers come in a week before the BBQ and clean down the building and wash the refrigerators. Another club comes in and puts on all the paper covers, etc. All county 4-Hers come to the BBQ to help serve, wash dishes, and whatever else is needed throughout the evening.
Since there is no fee for members to join, each club has to pay its own way on their activities, extra insurance for events where they take non-members which is mandated by the state. "Last year, we had a wonderful bake sale at the bank and didn't need one for this year," Catherine said.
Catherine began as a leader with Becky Dowell and Betty Eisenmayer when Brent and Diana joined 4-H. There was a boys and a girls club and they renamed the club, The Stronghurst Hustlers which remains today.
There are seven clubs with 127 members across Henderson County: Bald Bluff Blue Ribbons with Jill Leary and Shari and Russ Campbell; The Raritan Explorers with Lisa Corzatt and Vicky Keever; Terre Haute Superstars with Melinda and Dan Horton, Amanda Mohr, and Justin Mohr; Happy Rock Clovers with Lisa Lox, Becky Gerst, and Shelly Edwards; Media Achievers with Melissa Phillips, Henderson County Trailriders with Tina Shaner and Sara Nimrick; and the Stronghurst Hustlers, the largest group with over 40 members with Brenda Brokaw, main leader, and Catherine Burg, Sally Waddell, Renee Schneider, Dian Renken, and Jody Bigger leaders.
"Two years ago, Brenda Brokaw took over my job as main leader, and is now responsible for all the books and paperwork.
"There's a lot of paperwork for a leader, too, as well as the records 4-Hers have to keep in order to qualify as a 4-H Achiever," Catherine said.
"I'm really enjoying the capacity as "helper', Catherine said. "I try to get younger parents to help, and I am thrilled with the young blood of new leaders."
When does preparation for the county fair begin for 4-Hers?
Catherine says it all begins with their fiscal year which began September 1st, 2005 for the July fair. "We like to have members signed up by January 1st simply to get manuals to work on projects. They can make changes and additions and drops," she said, "but the cut-off date is May 1st in order to participate in the county fair.
There is a long list of projects besides livestock, sewing and baking. Everything from woodworking, soils, electricity, crops, safety, tractor care, :pretty much an endless number of projects.
Throughout the year, there are many other things 4-Hers do besides the fair.
They learn how to earn their own way," by doing fundraisers, and how to give back to a community by doing a yearly "food drive." They have gone to the animal shelter and helped walk dogs and clean kennels, and nursing home to deliver May baskets.
In 4-H rewards come, too. Not only in blue ribbons and trophies, but also with a good feeling inside knowing you gave your best effort in everything you did.
:showing up to clean fair buildings, baking for fundraisers, waiting tables, doing dishes, being on a committee, making plans, helping someone younger, giving a demonstration or a talk. :It all builds self esteem, responsibility, and good character.
During monthly meetings, Catherine said they always try to have a talk or demonstration, refreshments, and some recreation planned by one of the members.
Everyone enrolled is on a committee including a recreation committee. We have skated, bowled, and were to go snow tubing until it was cancelled due to the weather.
"I always said, if we can learn something and have fun, then we've accomplished what we set out to do."
Besides community service and fun activities, they also keep a club scrapbook to record activities, which is judged at the end of the year.
"It becomes quite an accumulation of activity, they will find, if they keep good records throughout the years."
"It looks really good on a college resume."
The ultimate award is 4-H Club Congress, Catherine explained, which is a national award. It means a lot of activity and record keeping from the beginning. A girl from Yorkwood was awarded it a few years ago.
All 4-Hers can enter the fair with projects, and there is no fee. Those entering livestock who are age 10 and older can automatically go to the state fair. General projects must be chosen by the judges to qualify for state competition. It's quite an honor to get to go to state.
"There are a lot of things 4-Hers learn," Catherine said. Compassion in serving others, responsibility, the rewards of hard work, the opinion of the judges rules, and to win and lose gracefully.
"I always felt like I should be doing more (as a leader)," Catherine said.
But in the eyes of her 4-Hers, who surprised her with a Leadership Appreciation celebration recently, she has met the calling of a great leader.
Who organizes, motivates, and encourages and helps keep the Henderson County 4-H fair so successful year after year? It's 4-H leaders such as Catherine Burg who is looking forward to another busy fair event.
She will say she doesn't want the credit, but that the credit goes to all the many parents and many volunteers.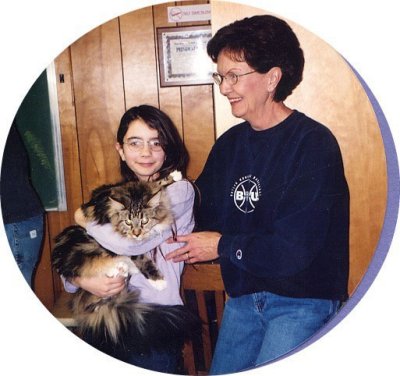 Catherine Burg, longtime 4-H leader for the Stronghurst Hustlers, helps Amanda Schneider with her cat during a 4-H meeting.
Catherine is one of the longest current 4-H leaders in Henderson County, now in her thirtieth year, who continually help youth learn the rewards of a job well done. Leaders are helping 127 4-H members throughout the county with projects for judging at the Henderson County Fair, July 3-8
---