The Hancock-Henderson Quill, Inc.

---
Meet Your Neighbor
By Holly Willdrick/Quill Reporter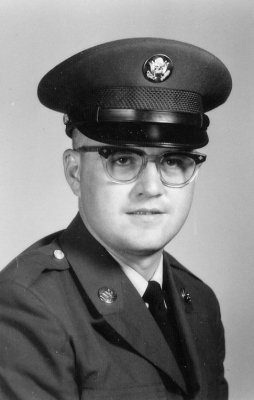 Meet Your Neigbor and Veteran Darrell Kraft of La Harpe, born and raised in the Fountain Green and La Harpe communities.
Darrell attended grade school in Fountain Green and was among the first class to graduate from the new school building. The old one was destroyed by a fire right before Christmas break.
He graduated from La Harpe High School in 1963 and went to work for Jerald Sprock Construction in Stronghurst. After six months he went to work at General Electric in Burlington, IA.
In 1965 Darrell joined the United States Army Reserve and went active duty in 1966. He visited Honduras twice and served as Mess Sargeant for the 2-123FA.
He married Connie Avery of Media on July 14, 1968. She was a waitress at a restaurant and he said, "I teased and tormented her until she went out with me just to punish me."
They have two daughters Julie (Steve) Salrin and Kelly Mapes, and four grandsons Justin, Jason, and Jared Salrin and Mitchell Mapes.
Darrell began driving stockcars at age 18 and continued off and on throughout the years. He has filled in for others when they were in need of a driver as well as driving his own cars. He has won features in Iowa, Illinois, and Missouri in late model, sprint, and super modify divisions.
When Darrell hung up his racing helmet, he picked up a flag and was flag man at 34 Raceway in Burlington, Iowa for a year and at Macomb Speedway in Macomb for two years. He enjoys going to the races and would someday like to get back out there for a couple of laps, maybe in a vintage car. He also likes old cars, from collecting to fixing them up and driving them.
Darrell retired from the Illinois National Guard in 1999 and is currently serving as the Commander of the La Harpe American Legion. He worked at GE until his retirement in May of 2002, except for a short time in 1977 when he went to Case Company.
After his retirement Darrell took a position with the Dallas City School District teaching Jr High Industrial Arts. "It has been very rewarding working with the young kids," he says.
Darrell also worked for the City of La Harpe as a deputy from 1971 to 1996. In 2003 Darrell suffered from an illness that put him in a coma from February 4 to March 17. He is doing well now and appreciates life with a new awareness.
"If you don't live your life to the fullest you can't rest in peace," he said.
---