The Hancock-Henderson Quill, Inc.

---
Business Spotlight: Blue Moose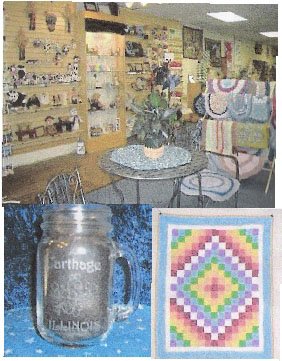 The Blue Moose is located at 64 South Madison Street in Carthage on the Carthage town square.
Sandy and Paul Mayes opened their business 5 years ago after moving back to the community.
Several years back they were forced to move when Paul became ill. He had worked as a children's pastor but was not able to continue so they returned to Reno.
Sandy took a position with a bank and John was able to work from home putting together newsletters for several companies.
Sandy liked to make crafts and quilt and would take her items to craft shows. She was able to sell enough of her "animal sitters" and quilts at the craft shows that they were able to buy the building they are in now, and move back to Carthage. Her hobby is now her job!
Their store features custom quilting using 100% cotton fabric in many colors and patterns along with Gutermann thread and cotton DMC floss, patterns, handmade rugs, table runners, country dish towels, Barb's Funny Farm painted wood crafts and gift baskets, as well as Carthage souvenirs.
They are planning on bringing back the "animal sitters" and "standers" that they make for this coming Christmas season. Sandy also teaches a 1 on 1 quilting class and will be holding a quilter's retreat in October.
"The most rewarding part of my job is to help a new quilter get up and running. Sometimes so fast that I can't keep up."
John and Sandy have two children, Paul (Bonnie) Mayes who live in Ferris and Katie (Chip) Wilcox who lives in Harrisonville with their two daughters Shelby and Madison. When they are able to get away, they like to go to Kansas City and watch their granddaughter pitch on her summer ball team. So far they have been able to make it to five of her games. They like to travel to Reno about every 18 months, and they enjoy feasting on "good food with good friends".
---