The Hancock-Henderson Quill, Inc.

---
The People Of Raritan Celebrating 150 Years
by Dessa Rodeffer - Quill Publisher/Owner
There was a lot of celebrating going on in the Village of Raritan this past weekend. The community's Sesquicentennial was bigger in numbers than the village's 150 residents, and all seemed eager to be apart, however big or small the task, to make their 150th birthday party a success.
Small town hospitality shown through in every event, and people really enjoyed the friendly and fun atmosphere. All were made to feel welcome.
Some couples will even say coming to Raritan is a nostalgic moment for them.
"I grew up after I was thirteen with the good folks of Raritan," James Miller said prior to Raritan's parade Saturday.
"I never had a bad day that I lived here." He and his wife Donna (Gibbs) traveled from their home in West Burlington, Iowa, to pay tribute to a town they hold most dear.
Miller was an orphan from Pennsylvania. After his parents died, a brother who was constantly brutal to James, obviously not wanting to care for him, dropped him off at the Raritan ballpark when he was thirteen, and never came back." Miller said, "It was Gary Wisslead who took me in like a brother."
James attended Roseville and Media schools and he ran the Standard Oil in Raritan for awhile. He met Donna Gibbs in Burlington, Iowa and they were married fifty years ago in 1957 at the Bethany Lutheran Church in Burlington. We plan to recite our vows at our 50th celebration this January 20th.
Donna has been receptionist at Southeastern Community College 26 1/2 years, and for three years, she as been athletic secretary.
James has an Emergency Portable Lighting System and four generators he operates.
"When the tornado hit, and power was down, I lite up the town, and since 1949, I have been generating light for the firemen's annual fireworks outside Raritan."
They have one son, Bill and two grandchildren.
"We take in children all we can," James said knowing what it can mean to a kid.
As for Raritan he said, "This town is my town!"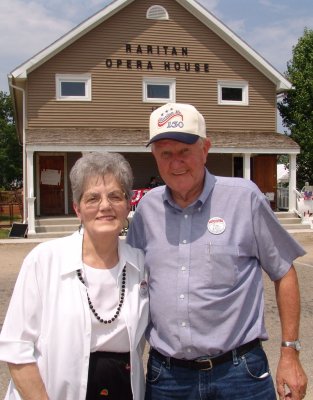 James Miller with his wife Donna celebrate at Raritan's 150th parade Saturday. Although their home is in West Burlington, Iowa, James explains: "This town is my town."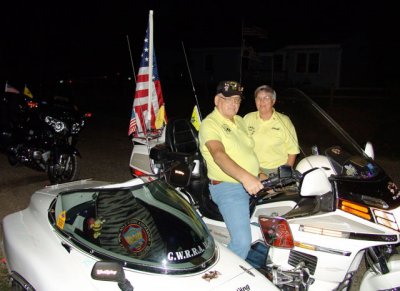 Ron and Linda Magnuson of Good Hope lead the GWRRA light parade at Raritan with their Gold Wing Honda and side car. They are also part of the Patriot Guard Riders, a 38,000 group, escorting fallen soldiers home and to the grave site.
---