The Hancock-Henderson Quill, Inc.

---
Business Spotlight
by Holly Willdrick, Quill Reporter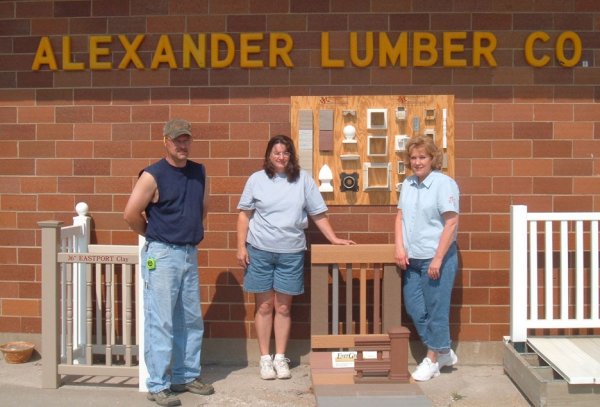 Alexander Lumber Company in Blandinsville made its first sale in 1919, eighty-seven years ago. The business is still owned by Walter Alexander with Joe Weber as CEO. Jody Little, Rich Boyer, Robbie Soule, and Pat Powell run the business on a daily basis. They pride themselves on good quality service and product and feel that they are very competitive with their prices.
"Most of our customers are friends and we want to make sure that their projects turn out right," Little said.
They offer cabinets, doors, windows, metal roofing and buildings, along with everyday lumber yard needs.
They specialize in cutting plywood to size and boards by the foot and offer free delivering no matter where you live.
"Often times we're in La Harpe at least twice a day and we tell our costumers to call us, we may be able to drop off an item for them."
To help customers with designing their kitchens, a new computer has been added to their business that allows them to generate various cabinet layouts.
COMPANY HISTORY
Alexander Lumber Co. was founded over 100 years ago in Aurora. A group of business people in Wausau, Wisconsin sent John Alexander to Aurora to open a lumberyard. At the time John was a 25 year old Scottish immigrant who had to borrow $1,000.00 from his older brother to buy a one third interest in the new company that would carry the Alexander name. Alexander Lumber Co. was incorporated over 114 years ago in Illinois in November 1891.
Prior to World War I lumberyards were built along the railroads so that they could receive the materials they sold. Once these items made it to the store they were then delivered to the farms by horse and wagon.
They were only able to service those customers whose homes could be reached in half a day so they would be able to make it back to town by nightfall.
The business grew and they followed the railroad and built on a acre or so of land leased from the railroad.
By the early 1920s they had grown to over 130 locations, most of which were located in small rural communities in the northern half of Illinois.
At the end of World War I when paved roads and trucks became more common, they no longer had to build their stores along the railroad. The trucks also allowed them to expand their delivery area and because of this they consolidated several of the smaller stores into one.
In the late 1930s, John Alexander bought out the other original investors and became the sole owner of Alexander Lumber Co.
Two of the original investors had also opened another yard in Wisconsin under the name Brittingham and Hixon Lumber Co.
Alexander was also able to acquire these and continued to operate them under that name. To this day both the Alexander Lumber Co and Brittingham and Hixon Lumber Co. remain in the hands of John Alexander's descendants. Several of his grandchildren and great grandchildren are still active in the day-to-day activities of management for the company.
Locally, employees at Alexander Lumber Co. in Blandinsville, run your small hometown lumber yard and want to take care of all your needs.
"If we don't have what you need we'll do our best to find it or tell you were you can find it," Little said.
Putting them first on your list to purchase all your projects this summer is what they strive for, they said, and they are ready to do their best to meet your construction needs.
---