The Hancock-Henderson Quill, Inc.

---
A Look At Business
by Holly Willdrick/Quill
K. J., Lauren, Jake, and Avery re-enact Rudolph the Red Nosed Reindeer with a student teacher from Carl Sandburg College.
Sunbeam Corner is a non-profit organization located at 645 South Oak St. in Dallas City.
Pam Dunn, President, stated that they have been operating the daycare for 27 years. They are licensed to have 25 children but have only 15 at this time.
Sunbeam operates much as a school does and have three different classrooms. There is an infant/toddler, 2 year old, and preschool room. They have a full time teacher and assistant, a part time teacher and cook, and a full time volunteer teacher/director. They are also a lab site for Carl Sandburg College for students seeking a degree in child development.
Pam said that they do have lesson plans, but try to follow the interest of the children more than the plans. If they start a subject and the children doesn't show a whole lot of interest after a couple of days they will move on to something new.
However, if they do show interest in a subject they will continue with it for as long as the child shows that interest. Some of the more recent subjects they have addressed include trains, art, fire prevention, and the holidays.
They are operating out of an older building but are very pleased with the upkeep and clean environment that they have to offer.
They received a DHS Quality Counts Grant for $2300 this winter that was specified for new toys and furniture. They also have a very nice playground for the nice days.
Take a visit to Sunbeam Corner if you are in need of childcare. It may just become the sunny spot in your child's day.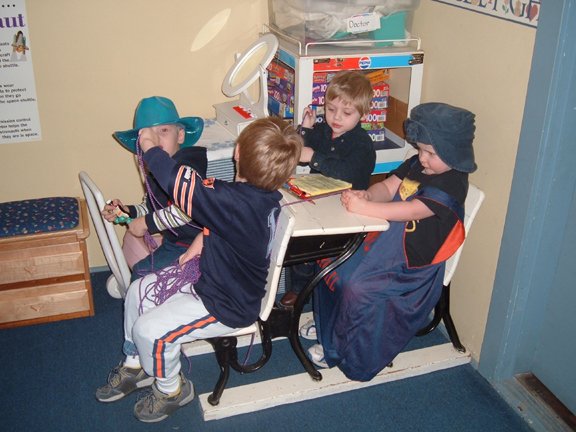 Drew, Jake, K.J., and Kevin outfitted and ready for take-off in their rocket ship.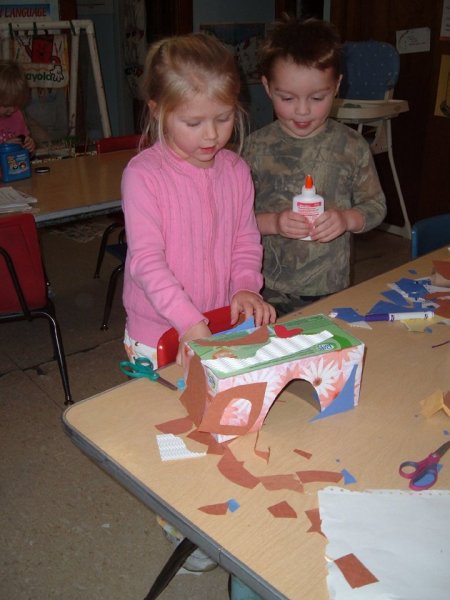 Avery and Jake are creating a fire truck from materials in the art scraps.
---