The Hancock-Henderson Quill, Inc.

---
7th Grade Boys Basketball Brings Home State Trophy
La Harpe: The 7th grade boys La Harpe Eagle basketball team traveled to Clinton to play in the 7A State Tournament.
The 7th grade team successfully worked their way to state competition and to the final four.
One Eagle supporter said, "I don't know if anyone realizes how rare it is for a small school like us to accomplish that. It was back in the 1970s when junior high was at Terre Haute since any 7th grade team advanced that far.
The Eagles ended the season by bringing home the fourth place state trophy and finishing the season with a record of 18 wins and 7 losses.
State games began on Monday, February 6th when the Eagles faced the Mt. Pulaski Bruins.
Colin Beals helped get the Eagles going in the first quarter in what turned out to be a low scoring quarter and led 5-3.
In the second quarter the Eagles extended their lead to 15-9 as Dylan VanFleet scored 4 points in the quarter.
La Harpe extended their lead by 9 at the end of three quarters and never trailed in the game winning by a final 37-28.
Leading scorers for La Harpe were Dylan VanFleet 11 points, Colin Beals 10 points, Kevin Bray 8 points, and Trey Bartlett and Seth Pinkston, 4 points each.
On Tuesday, February 7th, the 7th grade boys returned to take on the Peoria Pleasant Valley Panthers who entered the contest 22-0.
The Panthers jumped out to a quick 13-5 lead as the Eagles could not get their offense going.
In the second quarter La LaHarpe closed the gap as Trey Bartlett scored 6 points and they found themselves down 21-15 at half.
In the start of the third quarter, on two quick baskets by Colin Beals and a 3 pointer by Trey Bartlett, La Harpe was only down 21-20. The Panthers shut down LaHarpe's offense and went on an eleven point run to open the game up and go on to defeat the Eagles 47-31.
Leading scorers for La Harpe were Trey Bartlett with 11 points, Colin Beals 10 points, Dylan Van Fleet 7 points, Kevin Bray 2 points, and Brian Lafferty with 1 point.
On Thursday evening, La Harpe took on Effingham St. Anthony for the third place game.
The Eagles held an 11-10 lead after one quarter of play before the Bullpups came back to take a 22-18 halftime lead. The Eagles trailed by eight at 34-26 after three quarters with St.. Anthony pulling away for a 46-33 victory, capturing 3rd place.
Scoring for La Harpe were Colin Beals and Dylan Van Fleet with 10 points each, Seth Pinkston 4 points, Trey Bartlett 3 points, and Brandon Gehle, Brian Lafferty and Kevin Bray 2 points each.
As the sting of the loss faded, the Eagles were able to proudly bring home the fourth place state trophy to a very proud school and proud community.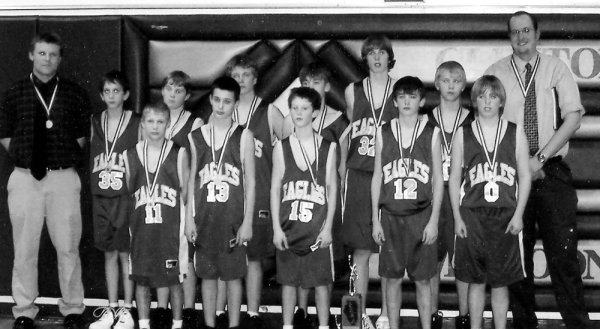 Illinois 2006 Boys Class 7A Basketball 4th Place State Team - LaHarpe Eagles
From left to right..... Coach Brandon Gooding, Nathan Ayer, Trey Ourth, Brian Lafferty, Rodney Rodeffer, Dylan Van Fleet, Seth Pinkston, Kevin Bray, Collin Beals, Trey Bartlet, Brandon Gehle, and Andrew McCleary, and Coach Nate Campbell.
---