The Hancock-Henderson Quill, Inc.

---
Cpl. Joshua D. Palmer Honored
by Holly Palmer-Willdrick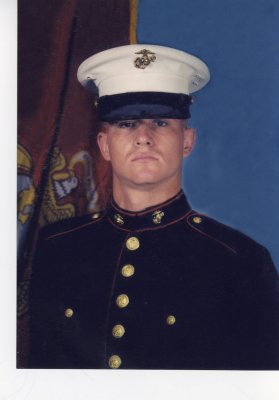 On Sunday, February 12, 2006 the Peoria reserve held a special ceremony to honor Cpl. Joshua D. Palmer for his act of heroism.
Cpl. Palmer sacrificed his life on November 8, 2004 while trying to save fellow marine, Lance Corporal Lam.
Lam and Palmer were constructing a fighting position near the upper Al Fallujah, Iraq peninsula when the embankment collapsed and the D-7 Dozer Palmer was operating and Lam fell into the river. Cpl. Palmer was able to exit the flooded cab of his partially submerged dozer and climb to the roof. Upon realizing that his fellow marine Lam had fallen into the river, Cpl. Palmer removed his weapons and body armor and without another thought jumped into the river after Lam.
Tragically, as he searched for his fellow Marine, Cpl. Joshua D. Palmer succumbed to the waters of the Euphrates River.
Due to his actions, even in the face of personal risk and ultimately the greatest sacrifice, Cpl. Palmer's family was awarded the Navy and Marine Corps Medal.
The Navy and Marine Corps Medal was established by an Act of Congress and approved on August 7, 1942. This award is presented for heroism that involves the voluntary risk of one's own life for acts of lifesaving or attempted lifesaving.
This is the highest non-combat honor a Marine can receive. Presenting this award to the family was Company Commander, Major Jon Quehl. Guest speaker Eric Schuller, from Lt. Govern Pat Quinn's office, summed it up best when he said you could describe Cpl. Palmer with three words, "United States Marine". Also present at the service was U.S. Congressman Ray LaHood, Engineer Company C and many family and friends.
The family shared the inscription found on their son's stone:
"No greater love hath no man than this,
than a man lay down his life for a friend." - John 15:13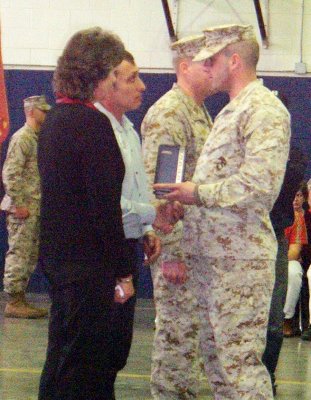 Doug and Carol Palmer, rural Blandinsville, receive U.S. Navy-Marine Corp highest Medal of Honor on behalf of their son, Cpl. Joshua Palmer who lost his life in Iraq attempting to save a fellow Marine.
---