The Hancock-Henderson Quill, Inc.

---
Heat Claim Regional Championship
West Central Coach Jim Cole and assistant Shelly Morrison are pretty proud of their Regional team who heated up the hoops during the Regional Class A Championship last Thursday at Bushnell. The girls opened up scoring in the first quarter and held a close lead at the end of the 1st quarter 14-13 until half-time when Havana cooled the Heat to a 21 tie.
Second half, the girls kicked it up a notch and the Heat were obviously pushed off-their game during most of the 3rd quarter. West Central took advantage of every loose ball and Brandi Short added a 3 pointer and Amy Hull hit deuce then two 3-pointers, and Renken and Lox each added a pair to give an 11 point advantage to the Heat at one point. The third quarter ended 38-33.
In the 4th quarter, the Heat lost ground and ended in a neck in neck game until the final buzzer. Brittany Fox lead the way in the 4th quarter and was sent to the free throw line in the final moments.
The Heat ended with pretty even scoring with Darci Renken leading scoring with 10, and Lene Lox with 9, Amy Hall-8, Kayla Coffey-7, Miriam Ruthzen-6, Randi Short-5, and Brittany Fox-4. (FTM 55%)
Havana had only 4 players making points. Lindsey Emmons #22 with 20, Jordan Shoemaker #30 with 17, Tucker #12 with 7 and Noll #10 with 4. (FTM percentage-69%).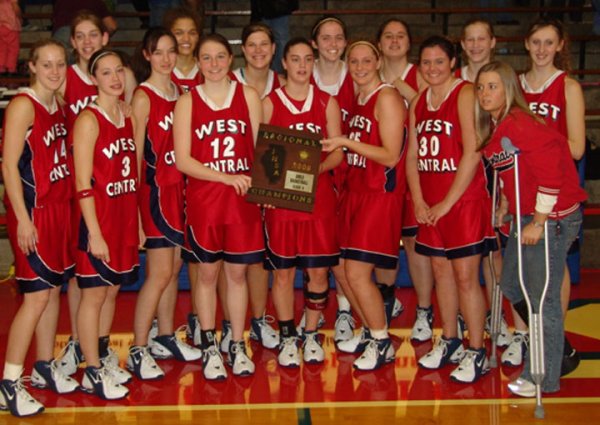 Regional Champs front left: Rachele Jack-14, Brandi Lindo-3, CK Torrance-21, Randi Short-12, Brittany Fox-10, Darci Renken-25, Mara Lefler-30, Shayna Heap-22.. Back left: Lene Lox, Mirian Ruthzen, Kayla Coffey, Amy Hull, Deanna Miller-34, Lyndsay Dilsaver-32, Jessica Chandler-24. (coached by Jim Cole and Shelly Morrison, not pictured)
---