The Hancock-Henderson Quill, Inc.

---
A Look At Business
by Holly Willdrick/Quill
Farmer's Wife Antiques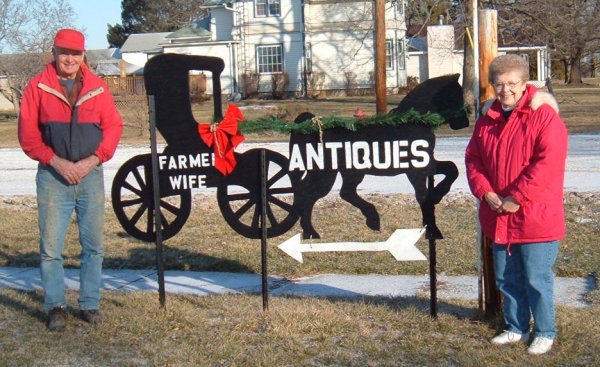 Farmer's Wife Antiques is owned and operated by Ralph and Marilyn Torrence.They have been in business for around 20 years.
They opened their business in the old school gym in Terre Haute and were opened for three years before they purchased the school and turned the rest of it into their home.
Marilyn said that "it has its good and bad points working out of their home. It is easier to close the doors and go home when you have to leave, but at the same time it is nice to not have to go anywhere to work." Sometimes they find themselves working way past closing time to get a project complete because they don't have to leave to go home.
They specialize in restoration, refinishing, and repairs of antiques.They also have a retail business of china and glass wear to railroad and farming items.They also travel to shows and will look for specific items if you would like them to.
They travel to St. Charles once a month and Texas twice a year.
Their hours are Monday - Saturday from 8 a.m.-5 p.m., but say if they are home just ring the bell and they will show you around. Just another bonus to having the business in their home.
Ralph and Marilyn have five children and 8 grandchildren. So in their spare time they enjoy attending the basketball and football games. Marilyn also like to read and do needlework. Ralph's doesn't have a whole lot of free time, but the antiques really are his hobby. "There isn't much that he can't fix."
---