The Hancock-Henderson Quill, Inc.

---
Calvin Smiddy, Popular Mail-Carrier In His Days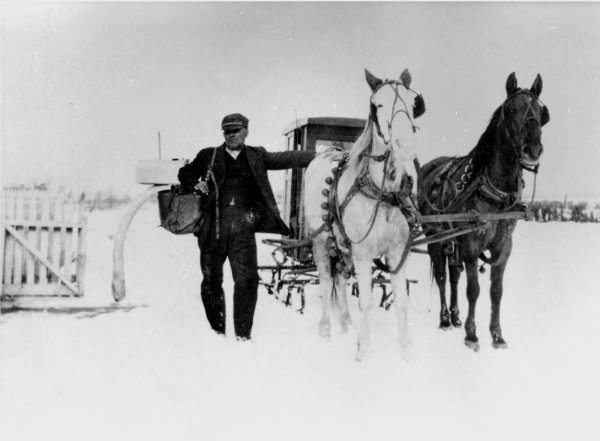 For over 26 years, Calvin Smiddy was known as a faithful mail carrier in the post office at La Harpe.
He was appointed in 1908 and served until his retirement in 1934, traveling in good weather or bad in a buggy pulled by two horses, and in the winter in a sleigh.
Everyday before he departed on his mail route, he went to the local grocery store to get treats for all the children on his mail route.
The grocery boys saved all of their ripe bananas for him or he would buy candy, gum, or other treats.
"When the children on Grandpa Smiddy's route saw him coming, they ran to meet him anxious to see what treats he had for them!" said Bob Louden, one of his grandsons.
According to one newspaper account in the Quill, March 24, 1937, hundreds had "paid last respects in crowded funeral home." It said the veteran and rural mail carrier died as a result of a heart ailment.
"Mr. Smiddy through his amiable manner and pleasing personality was able to make countless friends in La Harpe and over a wide radius of miles outside its limits.
"From the time he first began to serve the people of route 4 in the then stylish horse drawn box shaped wagon up to and including the days of the comfortable automobile, Mr. Smiddy's daily calls at farm homes were received with growing favor not only by adults but by eager children anticipating their bag of chocolates.
"During the many years Mr. Smiddy and his family lived in La Harpe, neighbor children were known to receive quite as much enjoyment on winter days as did the boys and girls on his mail route from hugging the wood burning fire box in his now antiquated little mail cab."
Calvin Smiddy was born on March 6, 1869 west of La Harpe was married 43 years to Miss Eva Lantz and had seven children and many grandchildren. One granddaughter said:
"He loved to take his grandchildren mushrooming and treat them after Sunday School to ice cream cones.
"In the winter after a snowfall, Grandpa and Grandma would dress in their warmest clothes and bundled up in blankets, hitch their horses to the sleigh, throw on the sleigh bells, and sled to our house five miles away! When we children heard the sleigh bells we knew Grandpa and Grandma were arriving. What a thrill to hear those sleigh bells!" After automobiles, he purchased a Chevrolet yearly and each Saturday drove Grandma to town so she could visit friends. He died March 16, 1937 at age 68.
---