The Hancock-Henderson Quill, Inc.

---
A Comfortable Stay At Biggsville's Hotel Lynn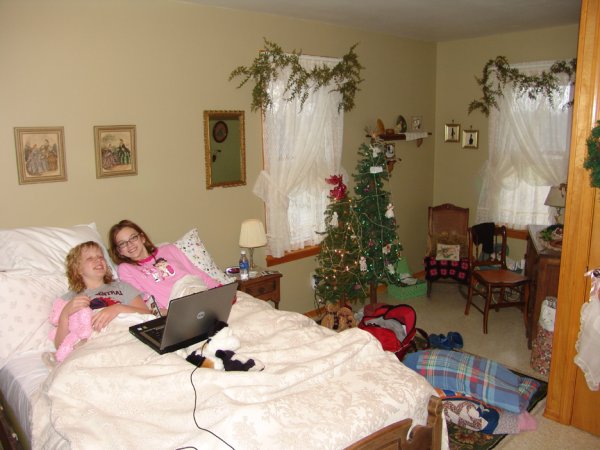 Biggsville: All ages can enjoy the accommodations at Hotel Lynn as Quill Publisher Dessa Rodeffer can attest after she and her 11 year old granddaughter Ali Postle of Stronghurst and her friend Gretchen Higgins of Biggsville, spent the first night in the enchanting refurbished landmark as the first registered guests. Mark Twain and his wife also signed in the guest book and spent the first night as guests kicking off the official opening of a Hotel Lynn 100 years after its closing as a hotel in 1906.
There was no television or stereo system in the hotel, so the girls used a laptop computer to watch DVD movies, and slept in sleeping bags for most of the night.
The four bedroom hotel houses a common bathroom upstairs where three of the bedrooms, a kitchen and living room are located.
The downstairs bedroom suite is situated behind a second kitchen and has a bathroom attached, complete with bathtub and shower. The lower level has living area, dining area plus a large room being used for the housing of the Biggsville school pictures, trophies and memorabilia collected by Russell Liston, one of the 30 plus stockholders. Rodeffer enjoyed reading a book, a hot bath, and comfortable sleep, and in the morning a hot basket of cinnamon muffins were baked by Susan Higgins and brought over for guests. The full kitchen was available upstairs with coffee maker, and bottled water was in the rooms and refrigerator. "It was a wonderful night's stay," Rodeffer said, and other friends talked about renting out the rooms for a "girls night out" slumber party in January or February.
"The re-opening of this hotel was an historic occasion for Biggsville and for Henderson County," Rodeffer said. "I couldn't help but want to be a part of it and contribute in some small way."
Russell Liston was carefully taking care of the register, which he said would keep a record of each guest that stays at Biggsville's Lynn Hotel.
"I was impressed with the care that Liston and others put forth in preserving the many bits of history they come in contact with throughout life"
After September 11, 2001, I've realized how quickly things can be wiped out and the importance each business in a town can have on a community.
"With each closing, a community deals with a loss and it can change the community's course in history.
"It was very exciting to see so many spirited individuals around the county come together Friday evening in support of this endeavor."
Over four hundred tickets were sold at $5 a person and over 300 attended the Christmas Open House event. $900 in food was donated by four corporations to make the Hotel Lynn's first open house a huge success.
According to President Richard Lutz, their newly formed preservation group is now over 30 members and growing. Four more were discussing investing that evening.
They purchased the hotel building for $18,000 on November 5, 2006 and the first can of paint was bought on November 18th, and they closed on December 5th.
Committees were formed and plans for four major fund-raisers were made with the first on the 15th. Over $2,000 was made with more shares sold to new investors at $500 a share. The committee is looking for more investors as shareholders in this for-profit investment.
Everything is paid for so far and proceeds will go toward a new central air conditioning system. An ice cream social, BBQ, something during Heritage Trails and another Christmas event will be held in 2007.
---