The Hancock-Henderson Quill, Inc.

---
Lomax Swears In Schaley, New Postmaster
Donna Schaley of rural Lomax was sworn in as the new Lomax Postmaster Tuesday, December 5.
The day was also special as it was her birthday. She was employed with the United States Post Office for five years as a Postmaster Relief.
Pat Luna presided over the proceedings and swore Donna into office as she placed her hand on the Holy Bible which her husband Roger and granddaughter Bayley Torrence held.
Witnessing this very special day besides her husband and granddaughter, were son Matt Nichols and daughter Tara Torrence .
Other postmasters and employees from other local post offices as well as many members of the Lomax community attended the ceremony.
Donna said she is looking forward to this new adventure as the Lomax community's Postmaster.
Donna and Roger have five children. Mark (Julie) Schaley, Jim (Laura) Nichols, Darren (Kelly) Nichols, Matt (Robyn) Nichols, and Tara (Jason) Torrence.
They have 10 grandchildren and another on the way.
Grandchildren are: Marli, Maranda, and Lance Schaley, Isabella, Elizabeth, Michael, Brittany, and McKenna Nichols, and Austin and Bayley Torrence.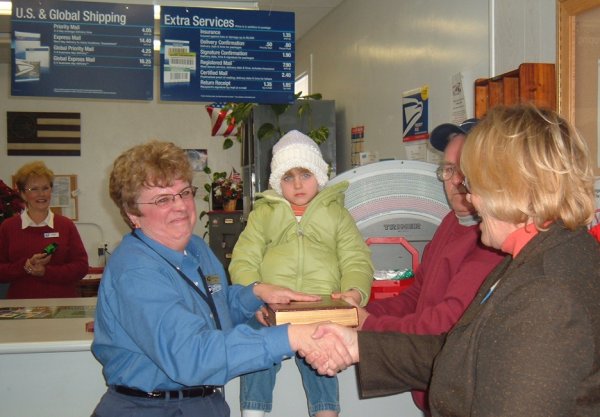 Congratulations was extended to new Lomax Postmaster Donna Schaley last Tuesday by Pat Luna of the U.S. Postal Service who performed the swearing in as Donna's husband Roger and their granddaughter Bayley held the Bible.
---