The Hancock-Henderson Quill, Inc.

---
Ballpark Name Honors Dr. Lindo
by Dessa Rodeffer-, Quill Publisher/Owner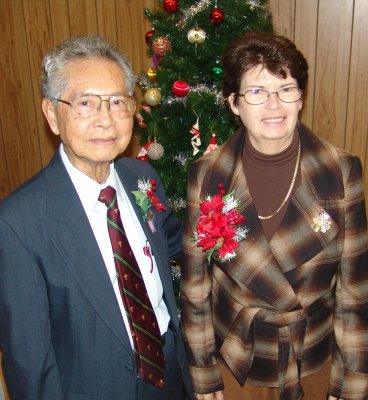 Biggsville- An Open House/Retirement party for Dr. S.C. Lindo and his wife Janet of Biggsville seemed to have filled the town Sunday afternoon.
All of the Lindo children and grandchildren were in attendance except for Bradley who is stationed in the United States Air Force in Japan, wishing he were home for the wondrous occasion of his father's retirement.
Dr. Lindo was surprised by the turnout and the many doctors who came to wish him well. Dr. Aurora, Dr. Ratnaker, Dr. Chamberland, Dr. Ambrose of Monmouth, Dr. Pogue from Stronghurst, and his brother Dr. Jonathan Lindo of Cedar Rapids, Iowa who travels weekly to work at the Henderson County Rural Health Clinic in Oquawka. Also, another brother Roger Lindo, a Pathologist also from Cedar Rapids, Iowa.
Several hundred cards have kept him busy in the evenings wishing him well and thanking him for his care.
Special recognition by the Village Trustees of Biggsville was given as a surprise to the town's doctor of 40 plus years when they named their recently acquired baseball park - S.C. Lindo Field.
"We wanted to give some permanence to Dr. Lindo and his family for his great contribution to our community," Mayor Dale Allenbaugh said.
It was up in the air for some time who owned the baseball diamond although the village had been paying all the expenses to it for some years but it was found that the school owned it. The school board was petitioned two years ago and the deed was transferred over to the village giving them the opportunity to upgrade the facility. The park was called West Park because it was on West Street, but it really did not have an official name as yet.
Allenbaugh said that Mrs. Lindo is quite a Cub fan, but they couldn't afford to purchase Wrigley, so they did the next best thing and gave the Biggsville Park the Lindo name.
Dr. Lindo said they had a friend who was a Cardinal fan who was glad they didn't name it Cub Field. Although Dr. Lindo is looking forward to more time at home, he said, "I have mixed feelings about my last day at work. I'll miss the people that I've seen every day."
---