The Hancock-Henderson Quill, Inc.

---
8th Grade Lady Eagles Capture Regional Title
This past week the Lady Eagles traveled to Hamilton and participated in the 8-2A regional. The Lady Eagles received a bye in the first round of their regional since they were the number one seed.
In the second round of the regional the Lady Eagles faced the Hamilton Cardinals. The Lady Eagles came out ready to play and would take a halftime lead into the locker room 34-3. The Hamilton Cardinals would come out and play a better second half, but would eventually fall 42-20.
The Lady Eagles were led in scoring by Carter Wear with 11 points, Kristina Johnson 9 points, Bali Campbell 8 points, Tiffany Mohr 4 points, Lauren Pollock and Jordan Quigle finished the game with 2 points each.
In the regional championship the Lady Eagles would take on the Carthage Bluegirls. The two teams had met twice earlier in the season with La Harpe winning both contests by 17 and 7 points. However, Carthage was dressing all of their 7th graders for this game and it is always tough to beat a good team three times in a season.
Both teams would come out ready to play with La Harpe taking an early lead 11-6 after one. In the second quarter the Lady Eagle's defense would begin to frustrate Carthage and their lead would increase by 10 points at halftime.
The second half would be all La Harpe. The Lady Eagles would tighten up their defense allowing only 3 points in the entire second half. The Lady Eagles would burn the nets up outscoring Carthage 24-3. The final score was 49-18 in favor of the Lady Eagles.
All ten girls on the La Harpe roster played a great game and showed great support for each other. The Lady Eagles were led in scoring by Carter Wear 14 points, Kristina Johnson 10 points, Bali Campbell 8 points, Tiffany Mohr and Brickston Mellinger with 6 points each. Lauren Pollock 4 points, and Stephanie Wetterling finished with 1 point. Although Jordan Quigle, Jodi Adcock, and Dayna Bundy would not reach the scoring column all three of the girls played great defensively contributing to the win.
The Lady Eagles will face West Prairie on Wednesday, December 6 at 6:00 p.m in La Harpe for the Sectional Championship. The two teams have faced each other three times this year with the Lady Eagles winning by 33, 17, and 28 points. The winner of the sectional will earn a trip to the state tournament Saturday, December 9 and play at 2:30 p.m. The tournament this year is being played at Bloomington Catholic High School.
The Lady Eagles are 23-0.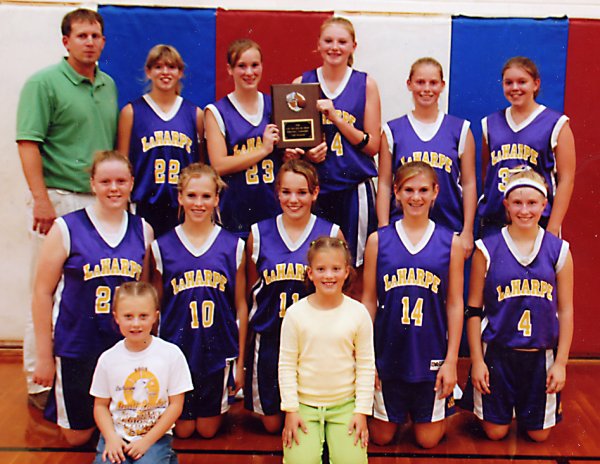 front l-r: Managers Maddie Finch and Josie Finch
2nd row l-r: Dayna Bundy, Tiffany Mohr, Brickston Mellinger, Lauren Pollock, Kristina Johnson
back row l-r: Coach Finch, Jordan Quigle, Bali Campbell, Carter Wear, Stephanie Wetterling, Jodi Adcock. Not pictured: Coach Dave Clover
---