The Hancock-Henderson Quill, Inc.

---
Doctor Lindo's Retirement Celebration This Sunday
Open House Honors a Life Of Service In County
by Dessa Rodeffer, Quill Publisher/Owner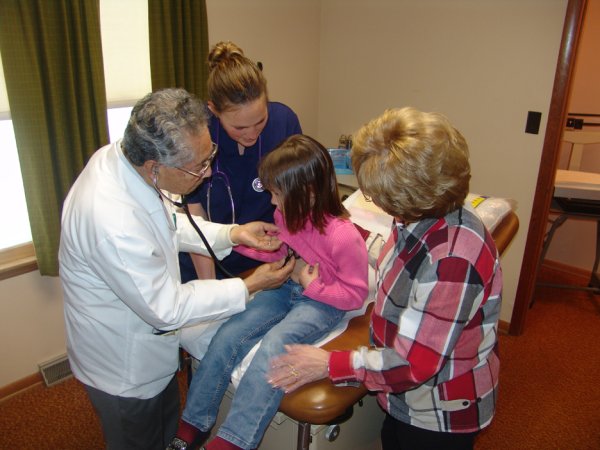 Biggsville- Dr. S. C. Lindo, M.D. will be ending his career a week from today as a family practitioner and surgeon after 43 years of service to the community.
Wednesday, December 13, 2006 will be his last day in his office facilities he had built in 1962 in Biggsville, just a block from his home, then starting his practice in 1963.
Dr. Lindo checked the heart beat of his medical assistant's 5-year old daughter Kendra, who was apprehensive at first, but soon warmed up to Dr. Lindo's good nature.
"I enjoy the children," Dr. Lindo said. "They are prepared by their mothers to be checked out. I just talk to them."
Dr. Lindo, born and raised in the Philippines, said he gets a kick out of the children.
One kid asked him, "How do you take bullets out of people?" to which he explained how they put them asleep, then operate and take out the bullet.
"The boy looked disappointed. So, I asked him, "You mean how did we do it along time ago?
"The little boy shook his head eagerly, so I told him.
"We gave them a bullet to bite on, and then we would get a knife and dig that bullet out of there!"
"The little boy squealed with delight and said, "I knew you were an Indian!"
"Most kids aren't afraid of doctors," he said. "I have fun with kids."
Dr. Lindo delivered 1500 babies from 1963 to 1990. Patients were seen from Monmouth, Kirkwood, and in Burlington, Iowa as well as from Henderson County communities. They usually came at 2 to 3 a.m., he said. Then he returned early in the morning for surgeries.
With his general family practice and surgery he took care of everything from pediatrics to middle age to geriatrics. He would do general surgery such as gall bladder, colon, stomach, even hips.
"There are a lot less surgeries due to newer medications that cure the problems.
"There is also Laparoscopic Surgery which is a small puncture rather than a large incision. Gall bladder surgery is now 4 small punctures and a patient is out the next day when it use to be a long incision under the ribs and they were in the hospital a week to 10 days.
There are so many improvements on the medical side of things. When I was a medical student, opening a chest was fatal. Now it is common to open the chest and work on the heart or lungs.
"We have a more modern way of using anesthesias," he said. "They paralyze the heart whenever they operate on arteries or veins, and then use a blood pumping machine to keep the circulation going throughout the body. When finished, they give other meds to start the heart again," he explained.
Dr. Marius Bernard in South Africa, famed heart transplant surgeon, was the first to do this procedure, he said.
Dr. Lindo said he became a licensed physician after seven years of college in the Philippines.
When he was in 4th grade he saw his mother reading a newspaper.
"An Intern was pictured on the front of it with a syringe. He was trying to remove air from it and I thought it looked like fun," Dr. Lindo said. "That was my inspiration. Then when I graduated from high school, I wanted to either be a farmer like my dad or a doctor. My dad told me I had better be a doctor because there was not enough land to be a farmer."
Lindo was the eldest of 7 boys and a girl in what he describes as a poor family.
The Philippines was under Spanish control for 400 years until Admiral Dewey defeated the Spanish fleet and they went under U.S. control from 1898-1946 when they claimed their Independence.
He was a teenager during the II World War and from 1941-46, he often found himself hunting for food in the mountains where they lived in order to feed the family. For days they would live off of fruit that he had found. The Japanese would steal the rice and vegetables from their farm.
After Dr. Lindo became a doctor, he said, one day and all through the night he worked with a child that had abdominal problems and then sent him to a surgeon in the city for surgery.
"I received 5 pesos ($2.50) for working all night, and the surgeon received 150 pesos ($75) for working 15 minutes. I decided I was going to be surgeon."
Dr. Lindo had to go the United States to do this, he said.
He had to take some classes again, but he was able to study four years in Peoria and Cincinnati, Ohio to become a surgeon and OBGYN doctor.
He met Janet Gibb of Biggsville, who was studying to be a Registered Nurse in Peoria Methodist Hospital. He fell in love and they married in 1959. When Dr. Lindo was almost done with school he decided to apply for permanent residency in the United States and then became a citizen in 1967. His first job as a surgeon was at Galesburg Research Hospital for one year. He then began his own practice in Biggsville, making rounds at Burlington and Monmouth Hospital and Galesburg each day, but after three months, he gave up the work at the Research Hospital, and after the flood of 1965, he gave up going to Burlington Hospital keeping his staff membership there to order tests, etc.
He recalls taking his wife to the hospital for their second child.
"She wanted to stop and deliver on the way, but I wouldn't stop. We made it to Monmouth just in time for Dr. Jo Simmons to deliver Michael."
Dr. Lindo said it was a lot harder to deliver your own child.
He recalled a knock on the door one night when a man said he was on the way to the hospital with his wife and he couldn't make it and wanted him to deliver her.
"I just got her in the office and in the stirrups and the baby was there," he said. "I cut the cord and called their doctor in Burlington, IA and sent them on to him.
Later, he received a phone call from the state questioning him about his facility, wanting to know and the number of delivery rooms, how many he had on staff to assist. He explained how it was an emergency and a one time situation and he never heard from them again.
He was the first doctor to come from a poor family in his village, but during his practice he was able to send money to the Philippines to educate all of his siblings.
Eugene-a lawyer, Ben and Serafin-engineers, Ruth a CPA, Roger a Doctor of Pathology, and the twins, Jonathan, a Doctor at the Rural Health Center in Oquawka and Arthur a lawyer and businessman in the Philippines.
Dr. Lindo and his wife have five children, Brian in Cedar Rapids, Michael in Burlington, Bradley in the Air Force in Japan, and Lori in Wisconsin and Susan, Peoria.
The loss of the Lindo home on March 21, 1989 by fire was a hard blow for the family. He said, "robbers can take your precious items, but fire takes your memories, things you can't reproduce.
The family still talks about it even though they've been able to build a beautiful home in the same place right by the railroad track.
"In the Philippines we lived right by the railroad tracks, too. When I'm here, it is like being home. It's the same size town as where I come from.
Now, Dr. Lindo looks forward to retirement and being at home, where he finds comfort and can spend more time with his wife and his love of gardening.
Come visit with Dr. and Mrs. Lindo at the Open House Sunday from 2-4 p.m..
Ask how how he farmed rice, sweet potatoes and corn together. Thank him for serving our communities and wishing well in retirement.
---